This fan-made 'Pokémon Sun and Moon' trailer will kick you in the feels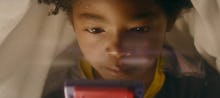 If you've ever walked by a Pokémon poster and felt wistful, or seen a long-time Pokémon fan get misty when they boot up Pokémon Go for the first time and experience a dream come true, we have a short video for you.
On Wednesday, filmmaker John Wikstrom posted on YouTube a touching salute to the Pokémon games of old, and to the Pokémon trainers who've long since put their beloved Pokémon games down.
Pokémon Go is a massive nostalgia trip for the the Pokémon trainers who were there from the very beginning.
Anyone just discovering Pokémon via the smash mobile game Pokémon Go may not realize that the Pokémon craze goes all the way back to the late 1990s.
Maybe, this trailer suggests, those old-school Pokémon fans might be interested in checking out Pokémon Sun and Moon, the newest game in the "main" Pokémon series, and experience the same wonder they felt as kids discovering Pokémon for the first time.
Or, old-school trainers could download the Pokémon Sun and Moon demo and discover some brand-new Pokémon — like the hero of Wikstrom's short video.
They're very different games from Pokémon Go, but the Pokémon in developer Niantic's mobile hit, including the legendary birds everyone wants to catch, were drawn from the original Pokémon Red and Blue, the game you see at the very beginning of this fan trailer.
Sun and Moon will be released on Nov. 18 for the Nintendo 3DS.