Who is Kendall Jenner's alleged stalker? What to know about Shavaughn McKenzie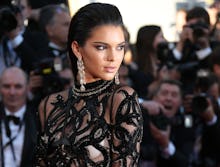 The trial is ongoing this week in the case of the man accused of stalking and trespassing on the property of 20-year-old reality TV star and supermodel Kendall Jenner. 
The Associated Press reports 25-year-old Shavaughn McKenzie is accused of "tracking" Jenner over 15-months, and had even found out the address of Jenner's home in the Hollywood Hills neighborhood of Los Angeles.
On Oct. 13, Jenner testified in the ongoing trial that she came home on Aug. 14 and saw McKenzie sitting at the front of her driveway, reported E! News. "I wouldn't expect someone to be sitting on the side of the street," Jenner reportedly told the jury. "I definitely thought it was weird. ... It didn't make sense."
McKenzie allegedly followed Jenner's car as she pulled into her home and, according to the AP, banged on the window. "I was crying, I was screaming, I was freaking out," Jenner told the jury, according to E! News. "I didn't know what his intentions were. I was freaking out. ... I never got out of my car. I was terrified. I was literally traumatized."
McKenzie faces up to six months behind bars if convicted of either misdemeanor stalking or trespassing. McKenzie's defense attorney, who is expected to deliver closing arguments on Monday, has said that McKenzie is mentally ill, and was unarmed and posed no danger to Jenner when he showed up at her home this summer.
The trial comes weeks after Jenner's half-sister Kim Kardashian West was robbed at gunpoint while in France for Paris Fashion Week.