All the delicious pumpkin seed recipes you can make with your jack-o'-lantern's guts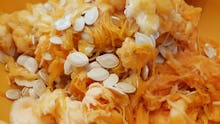 So you've carved your pumpkin into some semblance of that really complicated pattern you printed off Pinterest, but now what? 
You have a bucket full of pumpkin slop and seeds, and that pumpkin was too expensive to just throw away most of the insides. Just like your decorative gourds, you can eat your pumpkin guts in the tastiest celebration of the season. Here's what to do.
Roasted pumpkin seeds
The most obvious and traditional use for all those seeds: Roast up a big batch and season them with everything from Lawry's seasoning salt to matcha powder for a variety of flavors to keep you intrigued through November. Of course, you can also use your basic, salted seeds to add crunch to everything from soups to salads to roasted winter vegetables. Get the recipe here.
Pumpkin granola
Add some crunch to your morning with homemade granola, taking advantage of all those tasty pumpkin seeds you extracted from your jack-o'-lantern. Feel free to play around with the recipe! Get the recipe here.
Zucchini noodles with basil pumpkin seed pesto
Skip the pine nuts and opt for pumpkin seeds in this zingy pesto that, yes, you can also put on real spaghetti if you're not a zoodles person. Get the recipe here.
Zucchini quinoa burger
Pumpkin seeds add some much-needed crunch to this vegan burger that may become your new meat-free favorite. Get the recipe here.
Browned butter pumpkin bread
This pumpkin-bread recipe calls for pepitas (green pumpkin seeds, in Spanish) to be tossed on top, but why not stir some into the batter as well? You have so many! Get the recipe here.
Seedy spelt Parker House rolls
Everything that is wonderful about fall includes having a warm, freshly baked roll with spreadable butter melting down the sides. Add some texture to that melt-in-your-mouth roll with pumpkin seeds! Get the recipe here.
Pumpkin seed brittle
It's sweets season, so why not make some extra candy with your pumpkin seeds? Get the recipe here.
Endurance crackers
The vegan, gluten-free, nut-free and grain-free crackers may look like bird food, but they'll fill you up on pumpkin seeds and other natural ingredients. They also go great with a sip of your pumpkin spice latte. Get the recipe here.
Pepita-crusted chicken salad
Skip the fried chicken this week and coat your chicken in crispy pumpkin seeds! Eat on top of a salad or on top of some gooey pumpkin mac and cheese. Get the recipe here.