'Pokémon Go' nest location updates and changes: Players tip off new migration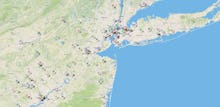 If you found a favorite spot to catch Snorlax or Pikachu in Pokémon Go, check again. Your Pokémon watering hole may have just changed places on you.
Pokémon Go trainers share nest location changes
The iTech Post has picked up on noise from within the Pokémon Go fan community that suggests another nest migration in the game. Pokémon nests are areas of very high concentration of specific species of Pokémon. Any Pokémon Go player who is serious about catching them all will find nests very useful, especially where rare Pokémon are concerned.
Tracking nest migrations in Pokémon Go makes it easier to finish your Pokémon collections
Nests don't remain in the same place, however. As developer Niantic tweaks and updates Pokémon Go, nests can change locations. On Thursday, members of the Silph Road Pokémon Go fan community on Reddit began reporting another nest migration, and making updates to the massive Global Nest Atlas maintained by the Silph Road.
Nest migrations happen frequently. The first was reported in late August, the second and third took place in September and the fourth migration was discovered in the first week of October. 
Since the death of PokéRadar, what used to be the best resource Pokémon Go players had to track down specific Pokémon locations, community-aggregated tools like the Global Nest Atlas are now your best way to keep track of how nest migrations affect the way you play the game. 
You especially want to track nests if you've run out of patience for Pokémon Go's buddy system, which awards one measly piece of candy for walking between 1 and 5 kilometers. It's so much easier to just park yourself somewhere and actually catch the Pokémon that give you the candy you need.