Hillary Clinton Halloween costumes are trendy — but Googling them reveals this mess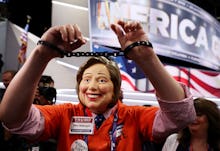 This Halloween has the distinct honor of falling just days before the Nov. 8 general election. So, it's no surprise that Democratic presidential candidate Hillary Clinton is a popular choice for a costume. What fun! 
Let's have a Google, shall we?
[Insert screeching record sound.] 
Quelle surprise! 
It would seem that the search results for "Hillary Clinton halloween costume" are highly problematic!
The first result, provided by Google Shopping, is an orange prisoner jumpsuit — suggesting Republican rival Donald Trump's rhetoric about Clinton being "crooked" and threatening to imprison Clinton, has officially entered the pop culture consciousness. 
The Republican presidential candidate's Twitter account is a bottomless well of Clinton takedowns. Trump also referred to her as corrupt, a "liar" and "crooked" innumerable times on Twitter.
And then this: The second result from this Google search is a $4.50 gem called "Hillary Clinton in Swim Suit US Flag Fridge Magnet" available via notable purveyor of fine garbage, eBay. The magnet shows the candidate's head transposed on a woman in a barely there American flag swimsuit.
It plainly reduces the candidate to a sexual object who's not to be taken seriously. 
And this sexualization — often used to deride Clinton — certainly isn't a one off. The image on the magnet mirrors a giant mural by street artist Lushsux in West Footscray, a suburb of Melbourne. 
Then there's the time pundit Tucker Carlson said, "When [Clinton] comes on TV, I involuntarily cross my legs." Or the popular T-shirt among Trump supporters, which reads "Hillary sucks, but not like Monica" on the front and "Trump that bitch!" on the back. The list goes on.
But perhaps the most terrifying of the options are the masks, which are not just abundant but are as troubling...
as...
they...
come.
So, for those who remain steadfast in their desire to pay homage to our potential first-ever woman president this Oct. 31, may we suggest — and hear us out — a wig and a pantsuit?