'Pokémon Go' tips: Find rare Pokémon with the PokéFind/GO Tools map app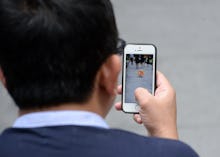 Trying to find some rare Pokémon ahead of the big Pokémon Go "Gen 2" release? Here's a helpful map app to make the job a little easier.
PokéFind (called GO Tools on Android) offers a crowd-sourced Pokémon Go map to help you track down those rare pocket monsters. It's been around for a while, but it's worth another look if you dismissed it earlier on.
Pokémon Go map makes finding rare Pokémon a snap
The heart of PokéFind is that map, which shows you recent sightings of rare Pokémon and estimates how long before they disappear. 
The Android version also shows gyms and PokéStops, but that feature hasn't made it to iOS yet.
The information is all crowdsourced, so it might not be 100 percent reliable. But at least you know Niantic won't punish you for using this app, unlike some earlier services that mined the Pokémon Go servers for information.
More Pokémon Go tips, tricks and guides
As an added bonus, PokéFind also comes loaded with special features to get the most out of Pokémon Go. 
There's a special tool for planning your evolutions and an IV calculator to check each Pokémon's stats. A recent update for iOS and Android also added a page to help you pick the best Pokémon buddy possible.
But my favorite feature is the adorable depictions of each Pokémon used in the app. It's like you're looking at a baby version of each monster. Even Aerodactyl, a terrifying flying fossil, looks cute.
PokéFind/GO Tools is free to use, though you'll have to put up with some in-app adds.