Donald Trump polls: Latest presidential polls show Trump will not be president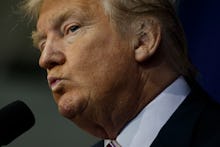 Donald Trump will not be the next president of the United States. 
That is the collective projection of election analysts, national polls and updates from battleground states. What once seemed like a close election has in recent weeks trended toward a clear victory for Hillary Clinton.
Electoral projections
Polls are important. But at this stage of the race, election analysts have had months of data and trends to analyze in their quest to accurately predict the election outcome. And across the board, these analysts favor Clinton. 
FiveThirtyEight gives Clinton a substantially more than 80% chance of winning the election. The New York Times gives Clinton a whopping 93% chance of victory. Sabato's Crystal Ball predicts Clinton will win 352 electoral votes. Cook Political Report is more conservative in its forecast, but still projects Clinton is on track for an electoral majority. 
Latest polls
No polls have been released that incorporate any effect from the final presidential debate on Wednesday. But barring a major surge from Trump, Clinton's lead appears exceedingly difficult to surmount. The Democratic presidential nominee leads by 6 percentage points in the latest national polls.  
Compared to 2012, Trump is vastly underperforming Mitt Romney's position at this point in the race. Trump is about five percentage points behind where Romney was at this point four years ago. And while there is more support for third-party candidates in 2016 than in 2012, that does not account for Trump's lagging poll numbers: In late October 2012, Romney and Barack Obama were tied.
Swing state stories
The latest polls from swing states are likely the nail in the coffin for Trump's chances at the White House. Trump must win several large battlegrounds, like Florida and North Carolina, while making gains in smaller states, like New Hampshire, and holding traditional Republican states, like Arizona. 
Trump's problem? Clinton currently leads in all the states listed above.