Republican congressman: "Sometimes a lady needs to be told when she's being nasty"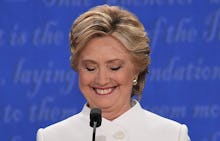 This Republican Congressman is standing by his man — and being totally gross and sexist in the process. 
Republican presidential nominee Donald Trump said more than a few offensive things at Wednesday night's presidential debate, but one of his most quoted moments came as an aside while his rival, Democratic nominee Hillary Clinton, was speaking.
"Such a nasty woman," Trump muttered into the microphone, as Clinton told viewers about her Social Security plan.
The comment caused an uproar, with thousands of women taking it upon themselves to reclaim "nasty" and turn it from an insult into a rallying cry. Still, some are defending Trump's insult — like Texas Republican Congressman and Trump supporter Brian Babin.
During a Thursday radio appearance on Fox News Radio's the Alan Colmes Radio Show, host Alan Colmes asked him if it was "appropriate" for Trump to call Clinton a nasty woman, CNN's KFILE team reported.
"You know what? She's saying some nasty things," Babin responded. Colmes pressed further, asking again if Babin thought it was "appropriate." At first Babin demurred, saying, "Well I'm a genteel Southern gentleman, Alan." 
Eventually, he said this: "No, I think sometimes a lady needs to be told when she's being nasty."
The word "nasty," as Megan Garber wrote for the Atlantic on Thursday, has a long and gendered history of being used against women. It's specifically been used against the kind of women who, as Harvard gender studies professor Caroline Light told the Washington Post this week, "refuses to remain in her proper place, as defined by men."
Maybe Babin thinks women need to be told they're nasty — but he should know that sometimes men need to be told when no one cares about their sexist opinion.
Correction: Oct. 21, 2016