Donald Trump wasn't funny at the Al Smith dinner — until a joke at his own wife's expense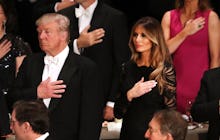 Neither Donald Trump nor Hillary Clinton faced an easy task in trying to lighten the mood of a particularly hostile election at the Alfred E. Smith Memorial Foundation dinner on Thursday. 
The white-tie fundraiser, which raises money for Catholic charities in New York, is typically an opportunity for presidential candidates to put aside any bitterness and participate in friendly roasts of one another — a tradition Trump seems not to have heard about before the event.
Venturing into scornful territory and repeatedly calling his opponent corrupt, Trump lambasted Clinton amid silence and boos from the crowd, adding the occasional self-deprecating quip. He did land one solid joke, though, at the expense of his wife, Melania.
Referring to allegations that Melania plagiarized portions of a Michelle Obama speech when she appeared at the 2016 Republican National Convention, Trump asked his wife to stand for applause while he singled her out as a punchline.
"Michelle Obama gives a speech and everyone loves it, it's fantastic," Trump said. "They think she's absolutely great. My wife, Melania, gives the exact same speech, and people get on her case!"
Trump's joke about his wife, as well as his attempts to poke fun at Clinton and Rosie O'Donnell — another woman he has publicly disparaged — once again diminished the candidate's oft-repeated claim that "nobody respects women more" than he does. 
It's an assertion he reiterated during Wednesday evening's third and final presidential debate, between stating he would do his part to see Roe v. Wade overturned and calling the 13 women who have accused him of sexual misconduct liars.
Indeed, not even a full 24 hours after he pretended yet again to see women as full human beings, the candidate demonstrated during his roast how he really feels about the women in his life. To Trump, women are always tools — objects of scorn or pleasure, ridicule or skepticism; whether he's talking about his opponent or his partner, they are never people worthy of his respect. 
That Trump continues to insist he views women with any shred of esteem might be funny, if only it were actually a joke.