5 easy DIY Halloween decorations ideas even the least crafty can pull off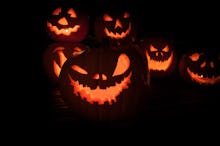 So you're at home and in your sweatpants and suddenly realize it's the weekend before Halloween. You look around and there are no decorations at all in your apartment / hovel / house / tree stump. Don't panic. We've found five easy DIY decorations we're confident you can pull off on your own.
Taylor Murphy, a freelance journalist and former House Beautiful editorial assistant, specializes in home decor and crafting. She says you shouldn't let the idea of making your own decorations scare you — even if you're a newbie. 
"I would say look at a lot of tutorials, don't be afraid to look around the internet and don't be discouraged if it [your decoration] comes out sad," Murphy said in a phone interview. "Something can still be pretty or cute even if it's not perfect." Words to live by. 
1. Transform orange party globes into eerie jack-o'-lanterns
We'll start off real easy. Buy a pack of orange honeycomb balls and some black cardboard paper and a little glue.
Cut out some jack-o'-lantern eyes, noses and mouths and stick them onto the honeycomb balls. Then slide a piece of black cardboard in the top to serve as a stem. You can wiggle it in with a bit of glue if you want it to be durable. 
See? You're already a master in DIY decorations.
2. Turn a Mason jar into a ghost candleholder 
Got some Mason jars lying around? You're not a real crafter without 'em.
With a glue gun, some white ribbon (or gauze), a couple of googly eyes and a tea light, you can transform your little jar into an adorable ghost candleholder. 
Glue one end of the ribbon to the top of the jar and keep wrapping all the way down, gluing the other end to the bottom. Stick those eyes on and there you have it.
Still not confident you can pull it off? Here's a tutorial, you needy crafter, you.
3. Wrap up these (totally edible) witches' broomsticks
These can serve as adorable accoutrement to your DIY decorations oeuvre — but you can also eat them. Win-win. 
We've provided another tutorial: the idiot's guide to wrapping pretzels in cheese, if you will. 
All you need for this one is pretzel sticks, Kraft singles (or some equivalent), chives, scissors and — of course — your sense of whimsy. 
Cut the cheese singles in half, fringe them, roll the half around a pretzel stick, tie it with a chive, trim the chive. Not keen on wrapping? Stick the pretzel into half a string cheese and cut fringe into the cheese. Then display it.
Just kidding. Eat it. Then eat the rest of the ingredients. 
4. Stack your pumpkins 
Don't be restricted to just one pumpkin for designs. Stack them on top of each other and use paint or carvings, or both, to vertically extend your design.
Check out the awesome suggestion below from Good Housekeeping, which turned three pumpkins into a tree silhouetted by a starlit sky.
If you want to get crazy, Murphy said, you can stud your pumpkin with craft studs, either as a flourish or central part of your design. 
5. Make your own ghosts 
Fun fact: You don't have to kill someone to make a ghost. Instead, try this number, made from cheese cloth and styrofoam display heads. 
This one is both super easy and extremely creepy. Aside from the cheese cloth and the foam heads, all you need is a foam brush, fishing line and craft glue (the kind that also works as finish and sealer) and fishing wire. 
Chop off the necks of the foam heads and drape them in two layers of cheese cloth (three yards for each piece is recommended). Tie some fishing line through the top of the mesh and use the the sponge brush and glue to secure the cheese cloth to the head.