Janet Jackson's "Nasty" Lyrics: 1986 song back in the spotlight after final 2016 debate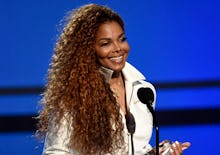 When Donald Trump called Hilary Clinton a "nasty woman" in the final debate before the Nov. 8 election, he likely did not foresee it become the next great rallying cry for the Clinton campaign. He also likely did not see it ushering in a mild Janet Jackson renaissance — but here we are, facing a flood of "Make America Nasty Again" merchandise, and a newly resurrected '80s pop anthem.
As Spotify reported Thursday, streams of Janet Jackson's 1986 hit "Nasty" spiked to 250% following the debate Wednesday. The nasty men and women of the world have a new jam to tear down the Trumpocracy and smash the patriarchy with. The song's lyrics could not be better suited to that end. In a horrifying sense of irony, the song was actually inspired by "emotionally abusive" and "sexually threatening" men, as Jackson told Rolling Stone all the way back in 1993.
Jackson told the magazine about launching her career at 19 and moving to Minneapolis to work with her production team, Jimmy Jam and Terry Lewis. There she learned how to express herself creatively and stand up for herself in the world. On the streets of Minneapolis, Jackson was forced to learn quickly, and "Nasty" was a product of her trials. She told the magazine:
The danger hit home when a couple of guys started stalking me on the street. They were emotionally abusive. Sexually threatening. Instead of running to Jimmy or Terry for protection, I took a stand. I backed them down. That's how songs like 'Nasty' and 'What Have You Done for Me Lately' were born, out of a sense of self-defense. Control meant not only taking care of myself but living in a much less protected world. And doing that meant growing a tough skin. Getting attitude.
The lyrics to "Nasty" contain some of these clapbacks. "I'm not a prude (no)," Janet sings on one of the song's standout verses. "I just want some respect (that's right)" Later in that verse, the classic anti-cat call:
'Cause privacy is my middle name
Considering the myriad examples of Trump admitting to being a sexual predator and bragging about it with his male colleagues, the candidate is exactly one of the "nasty boys" Jackson calls out on the track. And as Trump has repeated time and time again in this election, that he's changed and he's presidential now, part of Jackson's hook may put that in perspective: "Nasty boys don't ever change, huh," she sings. "Oh you nasty boys."