These 10 costumes are the hottest selling Halloween costumes so far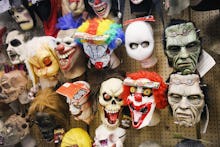 With Halloween right around the corner, retailers are selling thousands and thousands of costumes in preparation for the big day. But what are the most popular costumes of 2016 so far? According to a 2016 survey from the National Retail Foundation, among young adults ages 18-34, these are the 10 most popular costumes this Halloween season. 
Thankfully "killer clowns" didn't make the list.
1. Batman characters (Batman, Harley Quinn, the Joker, etc.)
This year, inspired by crossover appearances in Suicide Squad, Batman characters top the list of hot Halloween costumes, including the Joker and Harley Quinn.
2. Witch
You can't go wrong with a tried-and-true classic. "Witch" is the second-most popular costume among young adults this year, although the NRF didn't specify whether they'll be witches of the Harry Potter, Wizard of Oz or Hocus Pocus varieties.
3. Animal
Since Halloween often hits as the weather starts to chill, it's always a good idea to slap on a fuzzy onesie and a pair of animal ears and call it a day. Maybe that's why the general "animal" category takes the third spot on the NRF's list.
4. Tie: Marvel and DC superheroes
Superhero costumes from rival comic franchises, DC (Superman, Wonder Woman, Green Arrow, Aquaman) and Marvel (Spider-Man, Hulk, Iron Man, Luke Cage, X-Men), tied for fourth place on the NRF's list this year (excluding, of course, characters from DC Comics' Batman franchise, which took first place).
5. Vampire
Whether you like your vampires Twilight-style (i.e. sexy and sparkly) or classic (think Dracula or Nosferatu), a vampire costume is a Halloween staple. 
6. Video game character
"Video game character" seems like an awfully broad category, but that's what took sixth place on the NRF's survey. So whether you plan to be Princess Peach or some kind of World of Warcraft monster, you'll be in good company this Halloween. 
7. Slasher movie villain
Halloween is a good time for scary slasher movies, and scary slasher movies tend to have sociopathic and easily mimic-able antagonists! So grab a hockey mask or slip on a lovely pair of knife gloves and you've got a costume that perfectly compliments the spirit of the season.
8. Pirate
Pirate is a pretty easy costume because, at the bare minimum, all it really requires is an eye-patch and, if you're feeling fancy, a tri-cornered hat . Of course, you can do it all the way up too. And dressing as a pirate means you get to talk like a pirate, so it makes sense that pirate costumes placed on the top 10 list for young adults this year.
9. Star Wars character
It may feel hard to believe, but it hasn't even been a year since the release of Star Wars: The Force Awakens. And, with buzz around the next Star Wars installment already in full swing, it makes sense that Star Wars costumes would be all the rage this year. Although since when has a Star Wars fan needed a topical reason to dress up as their favorite character?
10. Zombie
Being a zombie is hard work — there's a lot of costume makeup and fake blood and groaning involved — but zombies are a classic Halloween look. And, with the new season of The Walking Dead premiering this month, it makes sense that zombies made it onto the top 10 list this year.