Eminem says new album to follow "Campaign Speech," but we have more questions than answers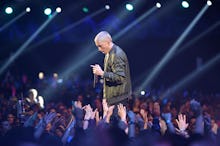 Every time it feels like the world is going to hell, Eminem fans can feel confident the emcee will be there to shit on all the pieces. He's made a career tearing apart politicians, with past victims including Dick Cheney and President Bush. Wednesday, just hours before the third and final presidential debate, Eminem orchestrated his latest political attack, dropping a venomous, nearly 8-minute-long track called "Campaign Speech." At the same time he also told fans not to worry, he's "working on an album."
The lyrics are pure chaos, a twisted revenge fantasy that takes aim at some of the most polemical figures in American culture from the past few years, including white supremacist Dylann Roof, Eric Garner's killer Daniel Pantaleo and, of course, Donald Trump. 
"Consider me a dangerous man," Eminem says nearly half-way through the song. "But you should be afraid of this dang candidate." It ripped through the internet, reigniting some fans' passion for Shady and renewing the conversation about Eminem's refusal to rap about anything but straight violence. 
There's little information out about whether this nearly beatless grime track is emblematic of what Eminem is looking to build on his next album, but here's everything we know so far.
Has Eminem offered any hints of an album title?
In May, Eminem helped verify and explain a batch of his past lyrics for Genius, and while discussing a lyric for his 2015 Southpaw track "Phenomenal," he toyed with the rumors about his upcoming album. He mocked some of the terrible album title suggestions he's entertained in the past.
"I don't know why people have suggested I name my next album Empower or Empart," he wrote. "This has been said to me so many times over the years. If I were to name an album with such a stupid play on my name it obviously should be called Empanada."
It feels more like an empty threat than an actual hit at his direction. But if fans keep coming to Eminem with corny album title suggestions, Empanada just might be what they get.
One rumor suggests Root could be the title of the artist's next album, and that it would include 12 tracks. However, said rumor remains unconfirmed.
Has there been any word on collaborators or features?
There has only been rumors at this point, and some artists who have all but offered up their services in recent interviews. Of course, a legend like Eminem can pretty much cherry pick as he pleases.
"Eminem and Juicy do a record together, I think that would be some hot shit," Juicy J told DJ Whoo Kid on The Whoolywood Shuffle show. "Cause I would like to go in and produce the beat. Like an old Three 6 Mafia-style beat, and we just do some shit over something like that, some '90s shit. I think that would be classic."
Snoop Dogg also recently mentioned in an interview with Rolling Stone that Dr. Dre is currently looking to book a tour for Snoop featuring Eminem, Dr. Dre, Kendrick Lamar and Ice Cube. It's entirely possible we'll see some features from some of those artists, if only to setup a track to collab on live. Lamar was especially vocal about his admiration for Eminem in a recent GQ interview, calling his album-craft "genius" and his sense of timing "impeccable."
50 Cent has also been a potential collaborator for some time now. Back in 2015, 50 said that he and Eminem had been tossing around ideas of doing a collaborative album. 
Drake is another likely possibility. After rumors spread that Eminem was planning to drop a diss track against the Toronto MC, the two quickly linked up at one of Drake's tour stops to show the world there's naught but love between them. The best way to bury that hatchet where no one would ever find it would be to release a collaborative track. 
There have also been rumors that Em is looking to link up with Lin Manuel-Miranda, of Hamilton fame, but it seems like far-fetched speculation at this point.
Is there a release date?
Nothing yet, but as soon we get word from Em's camp, you will know.