Childish Gambino rapping over 'Stranger Things' is the mash-up you need and deserve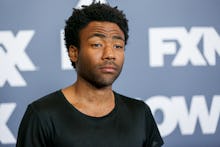 Donald Glover is spending some well-deserved time in television's limelight thanks to the success of his new series, Atlanta, but let's not forget his aptitude for making music. Glover, perhaps better known by his rap alias, Childish Gambino, reportedly has a new album in the works. Helping rev up the anticipation, producer kmlkmljkl has dropped a timely mashup of Gambino's 2011 single "Bonfire" over the Stranger Things theme. Somehow the ominous, synthy drone only brings more venom out of the MC's confrontational bars.
It's an excellent and appropriate remix for a couple of reasons. Not only are Stranger Things and Atlanta two of the hottest shows of 2016, but Gambino's upcoming album is rumored to have a strong science-fiction influence. 
The LP is supposedly called Pharos — a name it shares with the music festival Gambino hosted at Joshua Tree national park back in September. It was there where the rapper reportedly played all 12 tracks of the new record. 
Pigeons & Planes described the experience in a first-person account:
As the music carried on, the environment projected overhead morphed several times. First was a black starry sky and rock formations with aliens swaying and dancing. A few songs later the visual rotated and seemed to take us underground where we were met by dancing skeletons. For a song somewhere near the middle of the show, the visuals lurched through a neon forest as skeletons watched, danced, and hung in the trees. The grand finale had the projection launch us through space past planets on our left and right until we collided with a giant blue sun and exploded into all white.
Gambino himself doesn't appear to be involved with the creation of the Stranger Things remix, but it's an interesting parallel. From the description above, the mashup sounds like fit would perfectly mesh with the Pharos world.
The release date of Pharos remains a mystery, but kmlkmljkl's re-imagined take on "Bonfire" will have to hold us over for now.