'Tekken 7' release date & characters for PS4, Xbox One & PC: 2017 can't come soon enough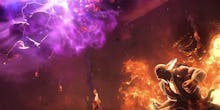 Tekken 7 first launched back in March 2015 as a Japanese arcade exclusive. It still hasn't arrived in the U.S., but by now we know a lot about the latest entry in the classic fighting franchise.
Tekken 7 release date for PS4, Xbox One and PC: Coming soon?
Tekken developer and publisher Bandai Namco has already confirmed that game will get an official launch in early 2017. 
Tekken 7 will eventually be available for PS4, Xbox One and PC. We don't know exactly when that will be, but it should arrive within the first half of next year. You can actually pre-order Tekken 7 now from Bandai Namco, Amazon and GameStop for $60 if you're determined to get your hands on the game as soon as possible.
Tekken 7 characters: Lots of new faces!
Tekken 7 is set to feature 33 playable characters. That includes eight brand-new fighters ranging from a humanoid cyborg with red skin called Gigas to Lucky Chloe, a female fighter who dresses in a cat costume and uses dance-style fighting. There's also Brazilian fighter Katarina Alves, a ninja named Master Raven and more. Street Fighter veteran Akuma even makes an appearance and apparently plays a big role in the plot.
Speaking of which, Tekken 7 will feature one of the franchise's darkest stories, according to game director Katsuhiro Harada. The plot apparently references events from Tekken 4, which focused on the inter-family feud between patriarch Heihachi Mishima, his son Kazuya and his grandson Jin Kazama. It also introduces Heihachi's wife, Kazumi, who can levitate and summon a tiger mid-fight.
Bandai Namco also recently confirmed that Miguel Cabellero Rojo will return to Tekken 7 seeking revenge for the death of his sister. So if you don't care about the Mishima clan, there's still plenty of other characters and storylines to focus on. 
Other changes to Tekken include two new mechanics
Rage Art lets you carry out a powerful critical attack, while Power Crush lets you keep fighting your enemy even while you take damage. However, Tekken 7 will still focus on the classic one-on-one battles we all know and love.
I've been a fan of Tekken for a long time, so I'll be keeping a close eye on any development moving forward. Stay tuned for more Tekken 7 news!