Philly's "pay what you can" restaurant offers new solution to food insecurity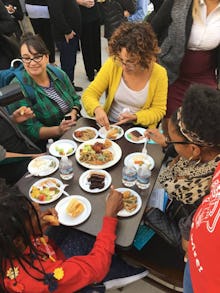 Restaurants and food insecurity often seem to exist in totally different worlds. While at one spectrum people enjoy gluttonous choices of what to eat, affording the luxury of being able to order off a menu and maybe not even feel guilty about leaving an abundance of leftovers on their plates, in the same city, plenty of individuals may not be able to afford a filling meal nor even know where their next meal is coming from. 
Such is the case in Philadelphia, where 22% of all Philadelphians are food insecure and the Greater Philadelphia Coalition Against Hunger reports that 90% of food pantries having empty shelves on at least one occasion throughout 2015. This means, those in need of food for themselves and their families were unable to access the sustenance they needed. For those who need food, read: all humans, that's pretty abysmal. Enter EAT (Everyone At the Table) Café, a nonprofit, pay-what-you-wish cafe that opened in West Philadelphia in late October. 
On the menu: three courses, including soup or salad, a hearty entree with a side and dessert, as well as a hot or cold beverage. Guests can pay the suggested price of the check, less, more (as a donation) or nothing at all. 
Eat Cafe was founded by the Leo and Peggy Pierce Family Foundation, which funds grants to help address hunger and food insecurity and the Francis Fund, which was established to help those struggling with hunger, homelessness and poverty in honor of Pope Francis' 2015 visit to Philly. Partners, including Drexel University's Center for Hunger-Free Communities, the main backer of the cafe, helped bring the project to fruition and support the vision of a pay-as-you-wish community cafe. 
"In Philadelphia, nearly 1 in 4 people are food insecure," Dr. Mariana Chilton, director of the Center for Hunger-Free Communities and professor at Drexel said in an email. "Having worked closely with families experiencing hunger and seeing the booming restaurant industry in Philadelphia, we knew there was something that should and could be done to bring the two together." 
Chilton envisions EAT Café as a place to bring community together, breaking down the isolation many feel when experiencing poverty. "Families who worry about how to put dinner on the table can come and eat without the stress or worry about how to pay for it," she said. "The EAT Café allows for anyone to enjoy a delicious meal no matter their ability to pay for it, [creating] a way for the community to support each other through food." 
EAT functions like any other restaurant, not like a soup kitchen or community service project to feed the hungry. "Diners should expect to be welcomed into a warm and welcoming environment," Chilton said. "The atmosphere of the EAT Café will provide a dining experience with dignity and respect for all." 
When the check is delivered with the payment options, the paid amount of the bill, similar to any other restaurant, will remain confidential, so no one else dining will know how much their neighbors paid for their meal. And like at many higher-end restaurants, tipping is also optional. "The staff at the EAT Café are paid a good non-tipped wage so any amount collected over the suggested price will help cover the cost for meals for people who cannot pay that price," Chilton explained. "The staff of the EAT Café have been trained to not only provide top notch service but to do so in a caring and compassionate way."
Since EAT opened, over 1,0000 customers have visited, from all walks of life. "At least 40% [of guests] are people who are paying less than the suggested price, we have many people paying the asking price and about 35% of people are providing extra donations through paying more than the suggested price," Chilton said. 
EAT gets around 50-150 diners a night, but it's too soon to tell exactly how the business will pan out. "Unlike most other community pay-what-you-can café's, we have a full staff that is paid a solid hourly wage (almost twice the minimum wage), and we have a salaried, full time chef/manager," Chilton said of the sustainability of EAT's business model. "We are working to get more food donations to keep costs low. We expect to refine the model as we go, and we expect the café to be completely self-sustaining within three years." 
As EAT finesses its service model, Chilton has been surprised that guests visited the cafe with lower expectations than she would expect them to. "It has surprised us to hear from people that THEY are so 'pleasantly surprised' at how nice it is — the ambiance, the food, the service," Chilton said. 
"I am surprised that people had potentially low expectations — even people who could not pay." EAT was created as colorful, warm, welcoming and inclusive environment, with the goal of serving delicious food in "a mildly upscale" atmosphere, Chilton said. "It's meant to be very nice, to take the stress off, to be like a warm embrace, to provide relief, comfort, joy and companionship." So far, she says that EAT has gotten great reviews and commentary and word of mouth has led to a line out the door during meal times. "We hope we can keep up this feeling of camaraderie and community," she said.
EAT Café isn't the first restaurant to embrace fairer pricing models. In summer 2016, Everytable debuted its neighborhood relative pricing, meaning, that when the restaurant is located in a neighborhood with a lower median income, it will have lower prices than the same restaurant's location in a more affluent area. 
The grab-and-go spot provides nutritious options, like salads and warm grain bowls, at affordable rates for neighborhood residents, giving everyone equal opportunity to enjoy and be nourished by their food. Unlike the fancy salad chain that opens in a gentrifying neighborhood and keeps its menu prices ridiculously high, Everytable, similar to EAT, is bringing better food to communities that really need it, at costs that will sustain the restaurant and the community. 
Like you probably knew all along, food really can bring people together.