Instagram seems to be testing live video, and this rumored update makes a lot of sense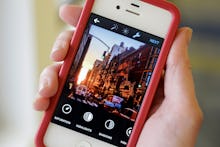 According to a report from a Russian news site, we might be seeing live video on Instagram soon.
Your precious feed of filtered, high-res perfection, taken over by grainy, unedited, low-lit footage? The photo icon sharing space with a big red button that says "Go Insta!"? Sure, why not. Let it happen.
The once-simple Instagram experience has gotten more complex since Facebook took over the photo-sharing platform. We now have sponsored posts, direct messaging, photo zoom, Instagram Stories, horizontal images, a revamped discovery feature and an algorithmic feed — attempts to compete with alternative services like Snapchat or to get a different set of users to adopt new Facebook features.
Facebook has become a go-to platform for experiencing video. More and more of my News Feed is composed of short news videos, friends' uploads and segments from Facebook Live. As the Verge notes, smartly: 
Facebook believes that fully immersive live experiences are the future — it's one of the reasons the company is investing so heavily in virtual reality — and it sees live video as a bridge to get there.
What's more, live video could also be a real moneymaker for Instagram.
Live video is also a way to attract spending from the lucrative television advertising market, which Facebook is working very hard to crack.
So, sure, it might be inevitable that we'll see live video on Instagram too. It actually makes more sense on Instagram, which has always been a mobile-first platform.