Donald Trump just promised to sue the women accusing him of sexual assault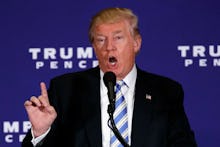 At a campaign stop in Gettysburg, Pennsylvania, on Saturday, Republican presidential nominee Donald Trump vowed to sue all of the women who have come forward with allegations of sexual assault 
"Every woman lied when they came forward to hurt my campaign, total fabrication. The events never happened. Never," Trump told the crowd. "All of these liars will be sued after the election is over."
Trump also lobbed accusations of dishonesty at the media, claiming that all his accusers needed to do was to make a "simple phone call" to their news outlet of choice, which would ostensibly grant them "wall-to-wall coverage with virtually no fact-checking ever."
"The dishonest mainstream media is also part and a major part of this corruption," Trump said. "They're corrupt. They lie and fabricate stories to make a candidate that is not their preferred choice to look as bad and dangerous as possible."
Trump has threatened legal action to combat sexual assault allegations in the past. After the New York Times published the accounts of two women, Jessica Leeds and Rachel Crooks, who claimed they were touched inappropriately by the businessman, Trump's campaign declared that it would file a lawsuit against the paper.