John Leguizamo pens powerful op-ed on Latino representation, Hollywood racism and more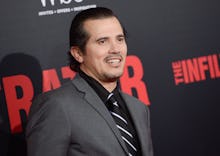 "John, you're so talented, but too bad you're Latin — otherwise you'd be so much further along." 
That's one of the sentiments that led actor and producer John Leguizamo to pen a powerful op-ed in the New York Times that is equal parts critique of Hollywood racism, political rallying cry for the nation's Latinos and history lesson on the central role of Latinos in American history. 
Leguizamo, who has been acting for over three decades, said that Latinos are the most underrepresented ethnic group in film and television, which "sends a painful message to every Latino child about how he is seen and judged." Leguizamo points out that Saturday Night Live only just hired its first Latina cast member, Melissa Villaseñor. Mic previously reported that almost no Latino-led films made their way to theaters in 2015. 
"Latino people face a double challenge: to create our own positive self-image while battling against the way the broader society portrays us," Leguizamo writes. "Without textbooks in schools that do justice to our contributions to the making of America, and without media representation expanding to include more Latin faces and voices, we are vulnerable to a demagogue like Mr. Trump claiming that we are all 'drug dealers,' 'rapists' and 'criminals.'"
Unfortunately, as Leguizamo points out, traditional tellings of American history often don't include the role Latinos played. 
"Latinos have been dying for America since before we were a nation," Leguizamo writes. "Why have our children not heard that thousands of Latino patriots fought for America in the Revolutionary War? Bernardo de Gálvez, a Spanish general, recruited Mexicans, Cubans, Native Americans and free African-Americans to fight against the British in the South, while Cuban women donated their jewelry and money to help the patriots."
He added, "Where is the Ken Burns documentary about that?" 
Leguizamo has previously decried the reality that young children of color are forced to learn white culture and history, though the gesture is never reciprocated. 
Leguizamo credited Republican nominee Donald Trump, who has a history of anti-Latino comments, with galvanizing the Latino community into action. 
"Not until Mr. Trump's racist rhetoric shone a light on anti-Latino sentiment did we feel the need to make our voices heard on the issues that matter to us: from proper funding for our schools, better infrastructure in our communities and financial aid, to health care that doesn't consider poverty a pre-existing condition," Leguizamo wrote. 
In the end, Leguizamo says, Latinos must demand a place in "American history, and in corporate, political and social fields." 
 "We must demand an equal share of the American dream, and not accept a downgraded version of it."