Jan Brewer says Donald Trump will win Arizona because Latinos "don't vote"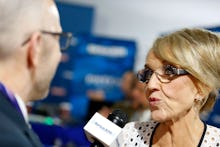 Former Republican Arizona Gov. Jan Brewer, whose administration drew immense controversy in 2010 for signing into law the nation's harshest immigration laws, does not seem very worried Latinos could carry her state for Democratic nominee Hillary Clinton in 2016.
In an interview with the Boston Globe, Brewer dismissed recent polls showing Clinton has up to a five-point 39-34% lead in Arizona, saying Latinos don't vote.
"Nah," Brewer told the paper. "They don't get out and vote. They don't vote."
Brewer might rightly be more concerned. While Arizona has been a Republican electoral stronghold for decades — the state has voted only once for a Democrat since 1976, re-electing Bill Clinton in 1996 — Latinos comprise a third of the state's population, and according to the Globe, are a major part of a coalition Clinton is building with other groups including Mormons to defeat Republican nominee Donald Trump.
Poll-tracking site FiveThirtyEight, whose national model incorporating polls, economic and historical data currently predicts Clinton has a nearly 84% chance of winning on Nov. 8, still gives Trump an edge in the state with a 53.3% chance of victory as of Saturday afternoon. But just weeks ago on Sept. 27, that same model showed Trump with a 79.7% chance of victory and Clinton at a paltry 20.2% in Arizona.
While Brewer's brush-off might reflect a long-held view among Arizona Republicans the state's GOP establishment is unassailable, Trump's campaign seems set to post even more paltry numbers with Latinos nationally than his predecessor Mitt Romney.
Republican Arizona Sen. Jeff Flake said Republicans should be cautious regarding Trump's inflammatory rhetoric on Latinos and immigration, telling the Washington Post earlier this year, "We can't afford to alienate and demonize the largest-growing demographic out there. Back in the '60s, we Republicans lost the African-American vote that we still haven't gained back ... I think we're not in a good position. I think Mr. Trump is not where he needs to be to win a general election."
In a statement forwarded to Mic, DNC Deputy National Press Secretary Jose Aristimuño said the GOP had ignored the results of a prior autopsy on Romney's campaign and Brewer "said in no uncertain terms that the Latino vote doesn't matter, that it's not going to make a difference this November. Her words are an incredibly offensive slap in the face to the Latino community."
Oct. 10, 2016 at 6:51 p.m. Eastern: This article has been updated.