The 7 best industries to work in post-election: Jobs that win under Clinton, Trump or both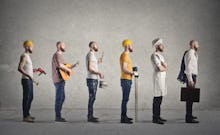 We've already had 19 months in this election cycle to dive into the candidates' economic plans. We've heard both Democratic presidential nominee Hillary Clinton and Republican candidate Donald Trump talk taxes and entitlements, the debt and the deficit, trade — and jobs.
Jobs — and job creation — might be, in fact, the most compelling issue in this election. And the nominees know it is a crowd-pleaser: Both candidates promise they will bring new jobs. 
Loads of them.
"We are going to make the biggest investment in new, good-paying jobs since World War II," Clinton told a crowd in August in Scranton, Pennsylvania, according to PolitiFact. (Spoiler alert: PolitiFact rated that half true.)
Clinton's economic policy could add 10.4 million jobs during her four years in office, according to a report by Moody's Analytics, a firm that examines financial and economic risk.
Trump has said he would create 25 million jobs over the next decade. In theory, that's about 18 million positions than would be created if he did nothing, at least according to Congressional Budget Office projections that show 7.1 million jobs will be created by 2026 under the current trajectory.
But after Moody's looked at Trump's jobs projections, it reported his programs would actually result in 3.4 million job losses.
Now, while most economists favor Clinton's economic plan as it has been laid out, there are a ton of asterisks behind the Moody's numbers. For one, Clinton's job additions would really be more like 3 million than 10 million (once you account for that same 7.1 million CBO projection for jobs that should be created either way). And other economic forecasting groups told CNNMoney that Moody's projections are highly speculative.
With these caveats in mind, Mic shook the trees of investment projections, economic reviews and policy proposals for each candidate to determine which jobs are most likely to pop during a Clinton administration — and which would boom during a Trump administration.
Trump, for example, says he will triple the number of Immigration and Customs Enforcement agents. Clinton says she wants to expand research funding to create the jobs of the future.
Mic looked into these and other areas, zooming in on industries and companies each candidate might boost as a clue to which jobs would grow under the next administration. Here are three that could thrive under Clinton, three that could do well under Trump — and one that should do well no matter who wins.
Industries that could do well if Clinton wins
Infrastructure
Clinton has proposed spending $275 billion on infrastructure over the next five years and establishing a $25 billion bank to fund the improvements. She has promised to make the most significant increase in infrastructure investment since President Dwight D. Eisenhower built the Interstate Highway System.
So building would likely be a priority. 
Companies like AECOM, an engineering firm that won government contract dollars to the tune of $2.6 billion in 2015, are likely to get the boost. Current job openings include senior positions for a transit systems engineer and a construction manager, as well as a project manager for traffic engineering. 
Equipment manufacturers like John Deere and Caterpillar could also see a benefit from Clinton's plans — if there's going to be more construction, we will need construction equipment and vehicles.
John Deere has job openings for software engineers, as well as for sales and service representatives.
Jobs in software and other computer-related fields are expected to grow by between 7% and 19%, depending on the exact job, between 2014 and 2024, according to the Bureau of Labor Statistics.
Solar energy
Clinton wants to let the sun shine — on solar panels. During the first presidential debate, she touted clean energy as integral to her jobs program. 
Clinton promises to push for more than half a billion solar panels to be installed across the country by the end of her term. Her goal? Expanding the country's solar capacity to 140 gigawatts by the end of 2020 — up 700%.
She is looking to put rooftop solar systems on more than 25 million homes.
That's why companies like Elon Musk's Solar City — which has launched government client projects in Connecticut, California and Maryland — would be well-situated to benefit under Clinton. 
Some job listings at Solar City include openings for a solar photovoltaic installer (aka PV installer), a representative for outside solar sales, a warehouse supervisor and a licensed electrician.
Projected growth in this industry looks strong: There should be a 24% increase in employment of PV installers from 2014 to 2024, per BLS data.
Other solar companies like SunPower and First Solar could also benefit under a Clinton administration: Expanding the small industry through competition may bring down the price of solar panels, increasing the number of homeowners interested in purchasing them.
Renewable energy
Clinton supports renewable energy standards, or renewable portfolio standards, which, for example, set a minimum blend of biofuels in gasoline. 
In a 2015 editorial, Clinton called the standard a "powerful tool to spur the development of advanced biofuels and expand the overall contribution that renewable fuels make to our national fuel supply."
Workers seeking jobs at places like Renewable Energy Group, which produces advanced biofuels and renewable chemicals and is based in Ames, Iowa, are likely to benefit.
Current job openings at the company include maintenance technician, biodiesel operator and manager for information technology projects and quality assurance.
The BLS does not currently have wage data specific to the biofuels industry, but has an overview of different jobs in the field. Job growth for biological technicians, the category a biodiesel operator may fall under, is expected to stay steady at 5% — but that will spike if the demand for research increases, according to the BLS.
Industries that could do well if Trump wins
Private prisons and security
One of the central policies in Trump's campaign is enforcing immigration laws and deporting undocumented workers. 
While some studies have shown that such a plan could cause harm to the economy, prisons and detention centers with government contracts would likely make serious money.
Moving 11 million people out of the United States could mean long stays at detention centers while awaiting judgments from the courts.
The GEO Group, a private prison real estate investment trust with a long-standing relationship with the federal government — and Immigration and Customs Enforcement — could provide that place.
According to the Street, the federal government accounted for more than 45% of GEO's revenue in 2015, about 18% from ICE specifically.
GEO is currently looking to hire an inmate records clerk, correctional officer and a cook.
Correctional officers earn an average median income of $40,580 and can expect job growth of 4%, which is smaller than the average job growth, according to the BLS. But in an industry with high turnover, job prospects would be plentiful — and openings would likely increase if prison populations jumped.
Like GEO, Corrections Corporation of America, another private prison and detention center company, would likely benefit under a Trump administration. 
Building materials
There's that wall that Trump wants to build — have you heard?
Constructing a 2,000-mile-long wall along the border between the United States and Mexico could be a big jobs program. And a manufacturer of cement like CEMEX, would be in an ideal position to benefit.
The Mexican-based global building materials company has a network of 13 cement plants, 46 distribution terminals, 74 aggregate quarries and more than 350 ready-mix concrete plants in the United States.
How much would go into building the wall? 
Fencing at the border would cost between $2.8 million and $3.9 million per mile, according to an estimate from the Government Accountability Office in 2009, while another analysis, as reported by CNBC, tags the price at $16 million per mile — for a grand total of $15 to $25 billion.
That would be a big payday. 
Job openings at CEMEX include a manager in health and safety, a sales coordinator and a driver of the ready-mix. 
Health and safety specialists make an average median income of more than $70,000 annually, according to the BLS.
Lafarge and Holcim, two other cement companies, could also benefit from increased use of cement under a Trump presidency.
Oil
Trump has said that he would like to slow down ISIS by going after oil in the Middle East. 
"I say that you can defeat ISIS by taking their wealth," Trump said on Fox News. "Take back the oil. Once you go over and take back that oil, they have nothing. You bomb the hell out of them, and then you encircle it, and then you go in. And you let Mobil go in, and you let our great oil companies go in. Once you take that oil, they have nothing left."
By Mobil, we can assume he means Exxon Mobil, the global oil and gas corporation.
Analysts say that such bombing would be "a ridiculous proposition," but if Trump has his way, the move could make energy companies a lot of money by pushing up prices.
That would be a boon not only to oil and gas companies but to all contractors and companies upstream in the energy industry.
Some job openings at Exxon Mobil include listings for a control systems engineer, process research chemist and a data scientist.
Information research scientists have high projected job growth, according to the BLS.
Health care should thrive under a President Clinton or Trump.
Not only do many top paying jobs involve medicine — but growth in the aging population means that a boom in health care jobs is fairly inevitable, no matter who wins the election.
Hospitals have also been staffing up in response to new patients coming into the health care system through the Affordable Care Act and — if BLS growth projections for related fields are any indication — hospitals will only continue their hiring in coming years.
Let's break down how each candidate could contribute to that growth.
Under Clinton
Clinton knows her way around health care, claiming Obamacare was originally Hillarycare — even if that may be an oversimplification.
She says she is committed to defending and expanding the progress made under President Barack Obama's administration toward universal coverage through the ACA, even as premiums rise.
She has also called for an expansion of Medicare.
Aetna, the managed health care company that is merging with Humana, would likely benefit from a Clinton presidency because it takes part in both the Obamacare exchanges and Medicare Advantage.
Some job openings currently available at Aetna: information security lead, case management coordinator and senior clinical strategist.
Information security is an expanding field, according to the BLS, with an anticipated 18% growth for analysts through 2024 — much faster than the average. Information security analysts earn an average median income of $90,120 annually.
Health care groups like HCA Holdings, which has hospitals and surgery centers in southern states like Florida, Georgia and Tennessee, could also do well under Clinton. Many Southern states have not accepted the Medicaid expansion pushed by the Affordable Care Act. If those signed on, it would boost business.
Current job openings at HCA include nurse practitioners and anesthesiologists.
Anesthesiologists have the highest-paid job in the United States right now, making an average median income of $258,100.
Under Trump
Like under Clinton, health care jobs should be plentiful under a Trump administration.
Under his plan, "all veterans eligible for VA health care can bring their veteran's ID cards to any doctor or care facility that accepts Medicare to get the care they need immediately," Trump said, according to NBC. 
That would, as under Clinton, be a boon for companies like HCA Holdings, which draws a ton of money from Medicare: If veterans could go anywhere there is Medicare, HCA would likely get more business.