Jessica Drake accuses Donald Trump of sexual misconduct, gets shamed for adult film work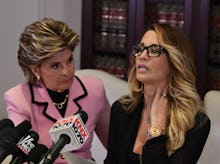 Many women are saying that Donald Trump sexually assaulted or harassed them — most recently, adult film star Jessica Drake, who held a press conference on Saturday in which she described numerous instances of inappropriate behavior by the Republican candidate. Because of her line of work, however, some internet people are implying that Drake had it coming.  
"Woman who has sex on camera for [money] says Trump propositioned her," Brit Hume, a senior political analyst with Fox News, tweeted. "'This is not acceptable behavior.' Please."
The suggestion would seem to be that, since Drake makes her living acting in adult films, she does not have the right to complain about the sexual advances men make on her. In the press conference, where she appeared alongside Gloria Allred, the lawyer for some of Trump's approximately 10 other accusers, Drake said the Republican nominee offered her $10,000 to spend time with him, after he kissed her without her permission and after she repeatedly told him no.
Drake, 42, met Trump at a 2006 golf tournament in Lake Tahoe, California, where she was working the booth for Wicked Pictures, an adult film company. Trump invited her to his room, but she "didn't feel right going alone," she said, and brought two other women along. When they walked into his penthouse suite, Trump "grabbed each of us tightly in a hug and kissed each one of us without asking permission," Drake told the media.
Drake then returned to her room, where she received a call from a man asking her to return to Trump's room. Drake said no, and then got a call from Trump himself, asking her to dine with him in his suite and to accompany him to a party. She turned down both invitations. 
"Donald then asked me, 'What do you want? How much?'" Drake recalled. "I told him that I couldn't.
"After that, I received another call, either from Donald or another male calling on his behalf, offering me $10,000," she continued. When Drake again demurred, saying she had to be back in Los Angeles for work the next day, the person on the phone offered her the use of Trump's private jet in exchange for her cooperation. 
"I am choosing to share my personal exchange in light of the recently released tapes, in order to lend my voice, my strength and my support to the other women who are coming forward," Drake said. "Collectively, his words and his actions are testament to his character: that of uncontrollable misogyny, entitlement and being a sexual assault apologist."
At a Pennsylvania rally on Saturday, Trump threatened to sue all the women who've accused him of sexual misconduct. Also on Saturday, his campaign released a statement calling Drake's accusation "totally false and ridiculous," alleging that she is working for Hillary Clinton's campaign. Trump supporters seized on this agent-of-the-enemy narrative, doubling down on Hume's logic.  
"No one believes someone who fucks for money and swallows load after load," one Twitter user, a viewer of Drake's work, tweeted, calling Drake a "lying whore" in a separate tweet.
Another user tweeted that most victims report to the police, not the media. (Most sexual assault victims don't report at all, in part because they fear being blamed and shamed for what happened to them.)
Others shamed her for "selling her body."
Drake does make her living from porn. She is contracted with Wicked Pictures, a company for which she acts, writes and directs. So, yes, Drake has sex, on-camera, for money — with other paid actors. Trump is not one. Trump's offer of payment for her company is Trump soliciting prostitution from a woman who is not a prostitute. 
It's troubling because, as some on Twitter pointed out, the reaction of Trump supporters suggests that a number of people believe "making porn and being sexually assaulted are the same thing." They're not — or at least, they shouldn't be. Ideally, adult film actors consent to the sex they have onscreen, but as evidenced by the spate of sexual assault and rape allegations made against porn star James Deen in 2015, that's not always the case. 
And then, there's the separate point that Trump's supporters seem to have missed, which is that their candidate may well have solicited sex while married to his current wife, Melania — at the very least, that should present a problem for his supporters on the religious right. But whatever way you slice it, Drake's story is further evidence against Trump's beloved assertion that "nobody has more respect for women" than he does.