'SNL' tackles the third debate and Leslie Jones speaks out about being hacked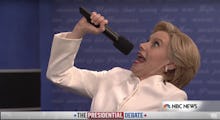 The final presidential debate between Hillary Clinton and Donald Trump aired Wednesday, but you knew the 2016 election cycle couldn't truly end until Kate McKinnon and Alec Baldwin's Saturday Night Live proxies finished out their own debate cycle.
The cold open for the show's Oct. 22 episode immediately set out to skewer debate No. 3, with host Tom Hanks stepping into the shoes of moderator Chris Wallace of Fox News.
The sketch hit all the big moments, from "bad hombres" to "nasty woman" to Clinton's oft-repeated, bloated monologue about the 30 years she spent in public office.
The entire episode made addressing real-life politics its business. Hanks got laughs during his turn as a disenfranchised Trump supporter during an installment of the show's recurring "Black Jeopardy" sketch, and cast member Leslie Jones stopped by "Weekend Update" to discuss the hacking and release of her nude pictures and the subsequent Twitter harassment she received over the summer.
"I am an open book. ... If you want to see Leslie Jones naked, just ask!" she said. "If you want to hurt anyone these days, you're gonna have to do way more than leak their nudes or call them names."
Jones also addressed her attackers head on, informing anyone who would dare to intimidate her that time has only made her more comfortable in her own skin.
"Trust me, at a certain point, you stop being embarrassed, and start being you. And I have been me for 49 years, because the only person who can hack me is me," she said.