Donald Trump Halloween costumes are as scary as the real thing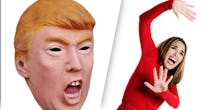 Donald Trump announced his candidacy for president in June 2015; in October 2016, we're coming up on our second cycle of Trump Halloween costumes. What a time to be alive.
That there are so many different ways to dress up as the Republican nominee that are almost as unsettling as the man himself. (Almost.) Here are five tremendous Trump Halloween costumes to scare the daylights out of your loved ones.
Don't worry — the nightmare will be over soon. 
You can be Donald Trump classic
Whether assembled from scratch or purchased in a plastic bag, a standard Trump costume is likely to scare most people, because for most people — save basically white men — Trump is scary. Either don a Trump wig, a "Make America great again" hat, a red tie, a blue suit and a flag pin, or buy a pre-packaged version. 
You can buy a scary Donald Trump mask
For those who don't want to bother piling on all the makeup, or who can't get the candidate's angry face down, there are myriad Trump masks available to terrify children. Rubber, cardboard, cartoonish rage or realistic orange — the possibilities are endless. Just maybe consider that police are not looking so kindly on people running around in clown masks these days,
You can be sexy Donald Trump
Because anything can be made into a sexy Halloween costume, sexy Donald Trump — or, Donna T. Rumpshaker, as she's called — exists. The costume itself is less unnerving than some of the Google results "sexy Donald Trump" turns up.
You can be Donald Trump the man-baby
The Republican nominee is, in many ways, like a petulant child: His insults and freely-given nicknames — Crooked Hillary, Crazy Bernie — have a distinctly schoolyard bully flavor about them, and his refusal to admit that the election isn't rigged — unless, of course, he wins — is testament to stunted maturity. So why not make a statement as a yuge, scary baby wearing a rubber Trump mask? If the diaper fits, and all that. 
You can be Donald Trump the groper
On the point of the shoe fitting, you could tear a page from the book of British journalist and heiress Jemima Khan's book and skewer Trump for his womanizing ways. Khan attended UNICEF's annual Halloween ball dressed as Melania Trump, wearing her handsy husband as a sort of groping human backpack. Until Oct. 28, her costume is up for auction on eBay — and the price is climbing. At time of writing, bidding had climbed to nearly $9,300, so the genuine deal is an option only for the decadent and philanthropic among us: All proceeds from the sale will go to Syrian refugees, "because that's what The Donald would want," the eBay listing reads.
It's a lot of money, but hey, what's scarier than having a Trump strapped to your back?