Donald Trump will accept the election results "100 percent" — if they're fair, son says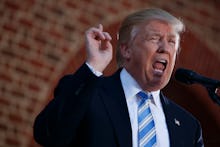 Actually, Republican presidential nominee Donald Trump will accept the results of the 2016 election — as long as it's fair, his son Eric Trump said on Sunday.
Speaking on ABC's This Week, Eric sought to clarify his father's infamous ambiguity on the subject of whether or not he would accept the election results as legitimate if the decision was not in his favor.
"I think what my father is saying is, 'I want a fair election,'" Eric said, according to Reuters. "If it's a fair outcome, he will absolutely accept it. There's no question about that."
But "fair" seems to be the operative word for the Trump campaign. When pressed on the issue at the third presidential debate on Oct. 19, Trump demurred, blaming his skepticism about a rigged election on a corrupt media.
"First of all the media is so dishonest, and so corrupt, and the pile-on is so amazing that the New York Times actually wrote an article about it, but they don't even care — it's so dishonest, and they've poisoned the minds of the voters," he said.
At a recent campaign stop in Ohio, the candidate repeated his message from the debate.
"I would like to promise and pledge to all of my voters and supporters and to all of the people of the United States that I will totally accept the results of this great and historic presidential election — If I win," he said.
As the gulf between Trump's poll numbers and Clinton's continues to widen in favor of the Democratic candidate, Trump has continued to double down on his insistence that the election is rigged. 
"What I'm saying is that I will tell you at the time," Trump said of his willingness to concede the election during the final presidential debate. "I'll keep you in suspense, OK?"