Tour bus crash in southern California kills at least 13, wounds 30 others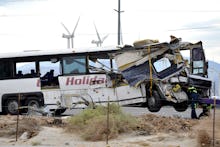 At least 13 people are dead and over 30 others are injured following a tour bus crash near Palm Springs on Sunday morning, the Desert Sun reported.
The bus collided with the rear of a semi-trailer truck, and the "front of the bus was enveloped by the big rig's trailer," forcing rescue crews to cut through large amounts of wreckage to extract the occupants inside. According to the Sun, the driver of the truck was unhurt, though the bus driver was killed.
CNN reported the California Highway Patrol and the National Transportation Safety Board are investigating. While the cause of the crash is unknown, CHP division Chief Jim Abele told reporters at a press conference the bus was traveling so quickly it compressed 15 feet into the truck's trailer.
The tour bus was owned by USA Holiday, a company which ferries passengers between Los Angeles and Southern California casinos, the Sun reported.
"The whole front of the bus up to about the second or third row of seats was completely crushed into the left rear side of the semi truck," Coachella Valley local Poet Aleman told the Sun.
"At this time, we know that there are multiple fatalities," California Highway Patrol Officer Stephanie Hamilton told Fox News. "We can't give an amount because that number is going to change. There are approximately 31 passengers on the bus that were transported [to local hospitals] with minor to serious injuries ... The intrusion into the bus compartment is significant."
Oct. 10, 2016 at 6:48 p.m. Eastern: This story has been updated.