John Oliver says he'll give Donald Trump his Emmy if he accepts election results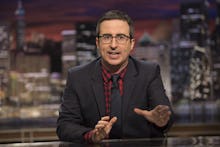 Heading into election day in November, one of the most unsettling suggestions from Donald Trump is his possible objection to a peaceful transition of power to the next president, which — as many polls indicate — will most likely be Hillary Clinton. But Trump would prefer to keep the American people "in suspense" rather than admit that he'd accept the results during the third, and thankfully final, presidential debate. 
This notion irked John Oliver, as the Last Week Tonight host demonstrated the real estate mogul can't even make self-deprecating jokes at a charity dinner. We just can't expect Trump to accept the results of his inevitable loss. 
"It increasingly seems like — if Donald Trump loses — we are not going to get the concession speech that the country badly needs, because he is medically incapable of accepting that he is a loser," Oliver says. "So we need to find a way for him to give a concession speech, while he's still able to claim that he won something."
Therefore, Oliver offered up a solution to appease Trump: He'll give him an Emmy. 
Trump complained during the debate about The Apprentice being snubbed at the awards show, and as Oliver notes, the trophy is an ideal fit for Trump. 
"Of course he wants an Emmy," Oliver explains. "It's a woman, it's gold, and it's proportionate to his tiny hands. It's basically Trump's ideal mate." 
"Let's bet on the outcome of this election," he continued. "I will take the side that you win... you take the side that you lose. That way, if you lose, you still win and, as for the stakes in the bet, I have something I know that you want." 
Oliver then whipped out an Emmy from underneath his desk — Last Week Tonight has won three overall, including best variety talk series this year — and made the proposition to raucous applause from the audience. 
"You don't even have to take her furniture shopping," Oliver concluded. "Take the bet, Donald. Take the fucking bet!" 
Watch the segment from Last Week Tonight below: