Woman livetweets aftermath of plane groping incident, crowdsources help from Twitter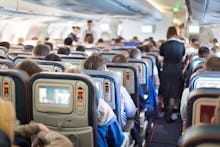 What do you do when you're trapped in a small, airborne tin can with a creepy man who groped you sitting just up the aisle? 
On a flight from Texas Saturday, writer and performer Ariana Lenarsky reported being groped by a random guy as she walked past his seat. Lenarsky quickly took advantage of the in-flight Wi-Fi, getting on Twitter and sounding the alarm. 
"Some guy grabbed & stroked my calf (??) as I walked by on the plane, so I took his picture," she wrote in her first tweet of what would become, in her words, "a real-time Choose Your Own Adventure for how to deal with harassment." 
She said she took his picture, not intending to share it, just to scare him. But that changed over the course of the flight. When Lenarsky told the flight attendants what happened, she said, "They already knew who it was, because other women already complained." 
Lenarsky continued to say that she was stuck on that plane with the groper for another hour and a half, and asked her followers what she should do in the meantime. "Tag the airline? Tweet the photo?" she wondered.
Readers encouraged her to share the picture of the man, one suggesting she "tag the airline, post the photo, your flight number, arrival time and ask authorities to meet that a-hole at the gate."
When the flight did land, authorities were there to escort the man off the plane. Police questioned Lenarsky and another woman, whom the man had allegedly tried to kiss. 
According to Lenarsky, she learned that had the other woman wanted to press charges, she would have had to involve the FBI, since the incident happened while the plane was in flight. Had Lenarsky wanted to press charges, she would have had to return to Austin, Texas — and pay her way herself. 
Police allegedly told Lenarsky that they would give the man "a talking to," but that his actions didn't amount to "the crime of the century." Since the groping was apparently "nbd," Lenarsky tweeted, she decided to share the man's picture, which had nearly 9,000 retweets at time of writing. 
Many on Twitter expressed outrage at the man's actions, asking, "What was he thinking," doing something like this "confined space" of an airplane. Taking a leaf from Donald Trump's book, possibly: The Republican presidential nominee has recently been confronted with mounting allegations from the many women he's reportedly sexually harassed, assaulted and even raped over the years. One of his accusers, Jessica Leeds, told the New York Times that Trump once accosted her on a flight to New York. After about 45 minutes in the air, she said, Trump groped her breast and tried to reach under her skirt.
"He was like an octopus," Leeds recalled. "His hands were everywhere."
What a positive example a presidential nominee has set for his country.