Delaware Memorial Bridge Fire Video: What we know about the Weed World Candies truck fire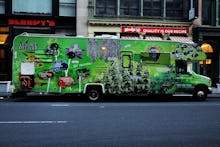 On Sunday, a Weed World Candies truck caught fire on the Delaware Memorial Bridge around 6 p.m. local time while en route from Washington, D.C. to Philadelphia. Though there were no reported injuries, according to an NBC affiliate, roughly $50,000 of merchandise was lost in the blaze, the cause of which is unknown.
Weed World Candies is a business that launched in 1999 advocating for the legalization of marijuana and hemp. Perhaps most recognizable by its loudly decorated RVs, the company travels the country selling lollipops with names like "lemon drop kush," "blue dream" and "green crack."
But despite the branding — and despite NBC's report that the business peddles "marijuana-laced candy" — the NYPD told the New York Post in 2013 that after conducting a field test officers determined the merchandise contained no weed whatsoever. At the time, the lollipops were being sold for $5 each, with sellers drawing in crowds with shouts of "Weed!" and "Stop by to get high!"
A manager going by Gregory "Ghost" Ware, told the Post the lollipops contained hemp oil, a substance containing no significant amount of THC.
Ware said, "It mixes with your body and gives off a nice, natural buzz."