Drake shares four new songs, sneaks Kid Cudi, Pusha T disses into "Two Birds One Stone"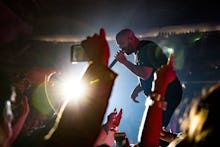 Drake enjoyed an absolute monopoly on summer radio. Now, he's coming for the winter. 
While still celebrating all the victory laps he's enjoyed from Views and its hit single "One Dance," which recently earned the rapper a "song of the summer" title and a record as Spotify's most streamed song, Toronto's very own announced a new project Sunday night. Titled More Life, it's set to drop in December, and the artist has already shared the first three tracks – "Two Birds One Stone," "Fake Love" and "Sneakin'" – and a bonus fourth, a remix of Dave's "Wanna Know."
Drake described it as a "playlist project" rather than a mixtape, discussing the project on his OVO Sound Radio show on Apple Music's Beats 1, though it's not entirely clear at this point how exactly it will differ from that more standardized format. It's set to contain entirely new material from he and "his team" at OVO.
The three album cuts feature new interpretations on that smooth trap light Drake worked to perfect on Views. Listen to each with a lyrical and musical breakdown below.
"Two Birds One Stone"
On "Two Birds One Stone," Drake goes in over a blurred-out 808s and Heartbreak-type beat to offer a classic rags to riches story. He talks about his father, Dennis, who has been living lavish in the wake of his son's success, and Drake's mother, Sandi Graham.
My dad used to use a soap bar till it's thinning out
The lines feature a nod to the album's title and help explain what the project seems to really be about: a toast to success. 
Drake also spends a little time shading those who have stood in his way, including Kid Cudi, who called out Drake for "talkin' top five and be having 30 people write songs for them" in a Twitter rant. The lines seem to ridicule Kid Cudi's mental health issue, which came to light after the "Man on the Moon" rapper checked himself into rehab for depression nearly a month after his Twitter rant.
You were the man on the moon
Drizzy also seems to get a shot in at Pusha T, who subliminally dissed Drake on his recent "HGTV."
You made a couple chops and now you think you Chapo
"Fake Love"
Drake has a knack for turning lounge crawls into bouncy R&B. "Fake Love" picks up where "Hotline Bling" left off. The new track deals with one of Drizzy's favorite topics: the suck-up, brown nosing love he seems to see all around him. When he's on top, "That's when they smile in my face," he sings. "Whole time they wanna take my place." Life is lonely when you're at the top.
"Sneakin'" feat. 21 Savage
"Sneaking" featuring "It's a knife" rapper 21 Savage is by far the darkest of the three. It's a shit talking track, pure and simple. Drake talks dismantling his rivals and making them "disappear" like "David Blaine." The best lines are the most quintessential Drake, using hip-hop's common bar-punchline structure to rattle off his luxury spread:
I used to have to hit my T's with Febreeze
He also offers some more expert analysis of millennial texting etiquette.
Face time with my shawty on tour
"Wanna Know (Remix)" featuring Dave
As a bonus, Drake premiered a fourth track that will reportedly not appear on More Life: a remix of British grime rapper Santan Dave's "Wanna Know." It's the latest in a long line of Drizzy remixes of already hot, but still slightly under the radar songs. He's done it before with Fetty Wap, iLoveMakonnen and Ramriddlz. Welcome the latest artist on OVO's good side: Dave.
October 24, 2016, 11:43 a.m.: This story has been updated.