These chefs are running the NYC Marathon. More importantly, here's what they'll eat after.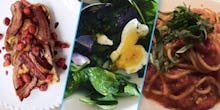 Chefs pull crazy hours to put delicious entrees on your plate — they're the kitchen bosses who make sure your food is hot and your drinks go down easy. 
Despite their busy schedules, some chefs manage to train (and crush) marathons. Yep, they even hustle when it comes to their side hustle. 
So what do these food pros refuel themselves with when they've completed 26.2? After all, post-race brunch is reason enough to run in the first place. And what do they snack on when they're en route to the start line? 
Four food industry veterans dished on what they plan to eat before, during and after the New York City Marathon on Sunday. From salt and vinegar potato chips to pilsners to Portuguese-style French toast, their celebration meals might surprise you — and make you pretty hungry. 
George Mendes 
Claim to fame: Michelin-starred chef, founded Lupulo, which features Portuguese comfort food
Before the big race, Mendes will nosh on some oatmeal with bananas and apples. "I don't really think about food as I'm running, but do fuel up periodically with electrolyte gels," he said in an email. 
Post-race, he usually has a craving for coffee. This Sunday, he's heading to Lupulo to celebrate with friends and family — he'll fuel up with protein like eggs and bacon, but he's also going to indulge in some French toast. (Portuguese-style French toast? Holy yum.) 
Elizabeth Falkner
Claim to fame: Award-winning pastry chef, currently working on a memoir
Falkner has her whole weekend in food planned out. The day before the New York City Marathon, she'll fuel up with some healthy carbs — a "simple pizza" for lunch and then a salad with fish, nuts and perhaps some dark chocolate, she said. 
Here's a spinach salad with purple potatoes and a poached egg, a meal Chef Falkner ate after a training run earlier this year: 
A protein drink will fuel her the day of the race, and she'll eat some homemade protein bites made of dates, nuts and vegetarian protein powder. 
"While I am running, I don't think about food but I do think about water, watermelon, beer, milk, chocolate milk, Italian ice and water." Mmmm watermelon does sound awfully refreshing.
Afterwards, it's a full-on feast! Falkner plans on having beer, maybe fish, "maybe some oysters and champagne!" 
Joe Bastianich
Claim to fame: Celebrated restauranteur who owns Michelin-star restaurant Babbo and Del Posto in NYC
Bastianich said he practically eats breakfast twice before the race because he's got to wake up so early to head to the start line. "I generally have something like a bowl of Arborio rice sweetened with a little honey before I leave the house, or a bagel with peanut butter. A few hours later I snack on something with protein like almonds and grana [a type of cheese]," he said in an email. 
During the race he doesn't think about food until around the halfway point. Then, he feeds off the crowd's energy to make it to the finish, he said. 
When he's crossed the New York City Marathon finish line for the past eight years, one drink has been on his mind: pilsner. "I'm not a big beer drinker and it always surprises me, but post marathon all I want is a cold, crisp pilsner," he said in an email, explaining he usually ends up at Becco, his restaurant in the Theater District, with his family after the race. "Pasta is usually my go to post race meal — agnolotti del plin or spaghetti pomodoro with grana padano cheese is perfect." Mmmm...anyone's mouth watering yet? 
Here's what spaghetti pomodora from Becco looks like: 
Bobby Stuckey
Claim to fame: Master Sommelier, co-owner of Frasca Food and Wine in Boulder, Colo.
On race day, Stuckey will get sustenance from oatmeal and trail mix as he makes his way to Staten Island, where the marathon starts. During the race, he'll slurp chocolate Gu packets fortified with caffeine.  
Though some runners prefer to have a low-key dinner and evening before a race, Stuckey plans to head out on the town while he's visiting NYC. "My wife does not prescribe to sitting in your hotel room, so we will have a Saturday night date night at Nomad," Stuckey said. 
Post-race, Stuckey's a man with a plan. "I am going to slam a few Anchor Steam beers.. with a bag of salt and vinegar potato chips, then have dinner at Charlie Bird with my wife," Stuckey said in an email. "I can't wait to drink some killer wine!" 
Post-run beer sounds extra refreshing, don't you think? 
Bonus: Marcus Samuelsson
Claim to fame: Celebrity chef who owns Red Rooster in NYC 
Samuelsson ran his first marathon in 2015 — completing the NYC Marathon to raise money for Three Goats Organization, a nonprofit that helps families in his native Ethiopia, the New York Post noted. He won't be running the marathon this year, but his post-race eats are just too good not to include. 
Food was a central part of this chef's training plan. He ate protein-rich Injera bread, an Ethiopian superfood, and chickpeas and lentils the night before the race, the New York Times reported. 
Before the race, he wasn't sure where he'd end up eating once he crossed the finish line. "Maybe some delicious Ethiopian food or more than likely, I'll be at [Red] Rooster with everyone afterward," Samuelsson told W Magazine. "There's always runners who come in and celebrate so it would be good to share the post-race dinner with them."
Brunch at Red Rooster doesn't look like a bad way to fete 26.2.