Renee Davis, pregnant mother on Muckleshoot tribal land, was fatally shot by police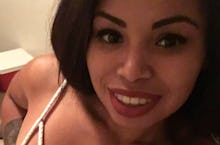 King County, Washington, sheriff's deputies shot 23-year-old Renee Davis at her home on Muckleshoot tribal lands Friday, the News Tribune reports. According to her foster sister Danielle Bargala, Davis was also five months pregnant. 
According to the Tribune, Davis was living with depression and sent a text message to a friend to say she was not doing well. Her friend alerted police officers, who arrived shortly after 6:30 p.m. 
In an earlier news report that cited the sheriff's news release, Sgt. Cindi West said that when two officers entered the house, they found Davis armed with a handgun and both officers fired at her. 
Two of Davis' children — a 2-year-old and 3-year-old — were also in the home. Another child, 5, was at a family friend's house.
According to a local news report, the officers involved were an eight-year veteran and a three-year veteran. Both deputies have been placed on paid administrative leave while the sheriff's department investigates.
"It's really upsetting because it was a wellness check," Bargala said to the Tribune. "Obviously, she didn't come out of it well."
People with mental illness make up one-third to one-half of all people killed by law enforcement in the United States, Mic reported after the death of Alfred Olango in September.  
Bargala said Davis was not violent and nor did she discipline her children harshly. 
"She was such a soft person," Bargala said to the Tribune. Davis was of Native American heritage and moved to the reservation to live with family when she was in elementary school. 
The Muckleshoot Early Learning Academy, where Davis worked, posted a message about her death on their Facebook page. 
The King County sheriff's office and the Muckleshoot tribe did not immediately return requests for comment.