Presidential Polls, Monday, Oct. 24: Latest national figures put Clinton ahead of Trump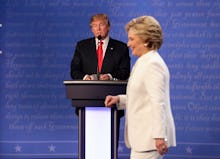 With two weeks until election day, here's what happened this weekend: Texas is now a swing stage, most polls project Hillary Clinton will thump Donald Trump on Nov. 8, and Trump trails by nearly four percentage points in must-win Florida. Some newer polls have incorporated the views of voters after the final debate, and they continue to show a Clinton lead.
National polls
The rally continues for Clinton in national polls. In the four-way presidential race, Clinton holds an average lead of about six points, according to RealClearPolitics. An ABC poll over the weekend gave Clinton a 12-point national lead. Meanwhile, in a sign that bodes well for Clinton, Barack Obama's approval rating is now at 52% on average. And Gallup released a survey that pegs his approval at 56% and disapproval at 41%, a 15-point spread.
Something to note: There are a few polls that have consistently shown a close presidential race. Over the weekend, Rasmussen Reports and IBD/TIPP released polls far more favorable to Trump than other pollsters. The polls show a 2-point Trump lead and a tie, respectively, results that are out of line with other surveys.
As FiveThirtyEight's Nate Silver explained after the 2012 election, the IBD poll was the most accurate in that presidential race. Rasmussen was one of the least accurate and has been charged with substantial bias in the past.
These surveys, along with the USC/Los Angeles Times poll, are tracking polls. This means they regularly survey the same group of voters to gauge support for a presidential candidate. But that guaranteed base of panelists has downsides, as the New York Times explained about the USC/Los Angeles Times tracking poll that has consistently favored Trump. In that poll, one African-American Trump supporter is weighted heavily and distorts the overall results of the poll.
We will not know which polls were most accurate until after election day. But so far, these tracking polls have been somewhat dismissed as all other polls show a clear Clinton lead. Very soon, such disputes will be settled.
Swing-state polls
Trump leads Clinton by less than 5 points in Texas. RealClearPolitics now rates the Lone Star state as a battleground. In 2012, the state's 38 electoral votes went to Mitt Romney by nearly a 16-point margin. Texas has gone Republican since 1980 and has long been considered a lock for any Republican presidential candidate.
Elsewhere, the electoral map remains difficult for Trump. If we assume the Republican can hold traditionally GOP states like Arizona, Georgia and Texas, Trump still must contend with the fact he trails in Florida and North Carolina — must-win states for his campaign. 
Election projections
Per usual over the past several weeks, Clinton continues to clean up in projections of who will win on election day. FiveThirtyEight, the New York Times, the Cook Political Report and Sabato's Crystal Ball give Clinton a very high chance of victory. RealClearPolitics projects Clinton will begin election day with 262 electoral votes — 8 away from victory.
As Cook stated on Friday, "It's get­ting in­creas­ingly dif­fi­cult to char­ac­ter­ize the pres­id­en­tial race as com­pet­it­ive." Indeed, the pundit class could be as wrong about the general election as they were about the presidential primaries. But almost all data points continue to point toward a clear Clinton victory.