Samsung Galaxy S7 Edge exploding: It's not just the Note 7. What's going on?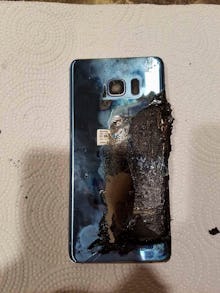 Samsung is having an explosive year, but not where it counts. 
An anonymous source who "works for one of the big U.S. wireless carriers" said in an email to PhoneArena that one of their customers brought in a Samsung Galaxy S7 Edge that had caught fire. The customer alleged that the device was charging overnight using its original charger. 
According to the source, the customer had just returned the notoriously 'splodey Samsung Galaxy Note 7 — the second version, with a supposedly safe replacement battery. Sad!
PhoneArena doesn't note the root of the Galaxy S7 Edge explosion, but since the device was charging, it's likely a battery issue.
Another Samsung Galaxy S7 Edge exploding
A recent report from Android Headlines revealed that another Galaxy S7 Edge caught fire in Canada over the weekend while the owner, Elisha Loewen, was driving home from work. When he saw smoke coming out of the console where his device was, he threw it out the window and extinguished it with snow. 
With the total recall of the Galaxy Note 7 following a slew of explosions in both the original and replacement devices, Samsung's market shares took a major hit. The company still doesn't definitively know why its devices started bursting into flames, but the Wall Street Journal reported that Samsung's choice to bypass the U.S. Consumer Product Safety Commission's formal process could have impeded regulators from investigating the culprit of the combustions.
Tacking on reports of different devices plagued by the same issues isn't just bad news for the company's market value, it's bad for Samsung's reputation. 
Samsung Galaxy S8 news
Samsung's next flagship phone, likely the Galaxy S8, is expected to launch in February. In just a few months, will consumers be able to put this fiery nightmare behind them and trust that their new device won't explode in their face? I'd bet my flammable ass that the iPhone and the Google Pixel are looking damn fine right now.