MacBook Pro 2016, MacBook Air and iMac rumors: What Apple may reveal at the Oct. 27 event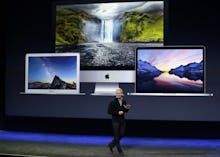 Last week, Apple said "Hello again" with the announcement of a special media event on Oct. 27. Given that the iPhone 7 and Apple Watch Series 2 reveals came earlier this year, it's said that the company will turn its attention to the MacBook Pro and iMac lines. But what exactly will the Apple event detail? Here's what could go down.
MacBook Pro 2016 rumors
It's been four years since Apple introduced a MacBook Pro with a significant redesign. That circumstance has led many to speculate the unveiling of a new MacBook Pro with a major overhaul. As with each each generation, the new MacBook Pro is expected to flaunt an upgraded processor along with a lighter and thinner design. The laptop is also rumored to adapt USB-C connectivity for file transfers and charging with MagSafe functionality.
The biggest aesthetic change, however, could be the addition of an OLED touch display panel. This feature would replace the standard function keys at the top of the keyboard and provide quick access to various apps with customizable hot keys. The rumors don't stop there: Reports suggest the entire keyboard could be updated to e-ink technology. If true, the MacBook Pro keyboard would have the ability to rotate alphabets (including emojis) and feature a backlit display. However, Sonder Design — the startup that is developing these keyboards — adamantly denied this speculation, so don't hold your breath on that one.
Also, the MacBook Pro looks set to include Touch ID access on the device's power button, which is a neat add.
MacBook Air 2016 rumors
It looks like the Pro will be the star of the show on Oct. 27, but the MacBook Air should receive some updates, as well. It's suspected that the new MacBook Air might come embedded with USB-C ports and drop the entry level 11-inch design in favor of a sole, 13-inch size. Unfortunately, there's no indication of the MacBook Air featuring the OLED touch display; Apple may view it as a top-of-the-line feature reserved for MacBook Pro models.
iMac 2016 rumors
Consumers anticipating an upgraded home or office rig may have to keep waiting. According to trusted Apple insider and KGI Securities analyst Ming-Chi Kuo, the new iMac won't roll out until next year. 
"We also expect Apple to launch new iMacs (21.5-inch and 27-inch) and Cinema Display (27-inch) in mid [first half of 2017]," Kuo wrote in a new research report, as reported by MacRumors. "We cannot say for certain whether Apple will announce the new iMacs and Cinema Display on October 27, as the shipping schedule is not imminent."
How to livestream Apple's Oct. 27 event
With this information in mind, it looks like the MacBook product lines will dominate the event, which you can watch via a livestream on Apple's official website on Oct. 27 at 1 p.m. EDT.