Before women could vote, they baked "Election Cakes" to entice men to the polls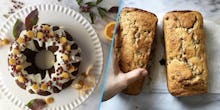 The patriarchy was pretty delicious for male voters back in the day. 
After the American Revolution, women brought cakes to voting sites to encourage voter turnout, Maia Surdam and Susannah Gebhart, co-proprietors of OWL Bakery in Asheville, North Carolina, said in an email. Women couldn't vote at the time, so unfortunately, getting sh*t done in the kitchen was one of the only ways American women could contribute to the democratic process of our young nation. 
"It was mostly women who were baking and men who were voting, especially in the early [history] of this cake," Surdam told NPR. Surdam and Gebhart are encouraging bakeries nationwide and home bakers to pay homage to the "election cakes" baked by women centuries ago. 
What was "Election Cake?" 
"The Election Cake, before the republic was established after the Revolutionary War, was called Muster Cake and served at 'Muster Days,' where colonists gathered to watch and partake in Militia trainings," they said, noting that Hartford, Connecticut, was a hub of "Election Cake culture." In the 1770s, professional bakers got paid to bake election cakes that were served to officials who were counting votes, Gebhart and Surdam said, noting the first recorded election cake dates back to 1796. 
Check out this recipe for election cake posted on ConnecticutHistory.org.
Americans allegedly needed eight pounds of flour and more than four pounds of butter to lubricate the wheels of democracy. The ingredients make it sound reminiscent of a fruit-studded, booze-spiked bread or cake. 
Why the massive quantities of ingredients? The cakes were meant to feed lots of people, NPR noted. 
In fact, Election Day used to be a veritable holiday on par with Thanksgiving or Christmas. Candidates held large parties to increase voter turnout, the National Constitution Center blog noted, explaining that the tradition dates back to even the very first presidential election. Our esteemed first president, George Washington, spent his entire campaign budget (50 pounds) on liquor when he was up for election for the House of Burgesses, the first legislative assembly in the American colonies. 
Voters (ahem, men) sometimes voted in saloons before the Prohibition era, the Constitution Center blog stated. To say it was a boozy affair might be the understatement of all time. "... any kind of political partying today is mild in comparison to America's past behavior," the Constitution Center noted. 
It's not clear exactly when election day celebrations started to wane, though John Grinspan, historian and author of The Virgin Vote, noted that enthusiasm for democracy dwindled in the 20th century as the country became more bureaucratic, Bon Appetit reported. 
Modern day election cakes 
OWL Bakery (owned by Gebhart and Surdam) in Asheville, North Carolina, and bakeries in 13 cities are selling "election cakes" that pay homage to the history of celebrating democracy. The proceeds will go to the League of Women Voters, a nonpartisan organization that helps traditionally underrepresented or underserved communities exercise their right to vote. 
The name of this intrepid project: "Make America Cake Again!" According to the OWL Bakery website: 
"Make America Cake Again!" is a collaboration and celebration among bakeries, food professionals, home bakers, scholars, and educators across the country. It is a nonpartisan nationwide project to raise awareness about our culinary heritage and the place of food in political and social life as well as to generate funds for voting access and rights.
The OWL Bakery has sold out of election cakes every day since Oct. 14. (They are now selling online, too.)
"The response has been overwhelming," Gebhart and Surdam said, explaining they are encouraging customers to check out all of the bakeries participating in #MakeAmericaCakeAgain. 
Women baking election cakes before they could vote symbolizes "that long struggle and the tradition of women putting themselves, whenever possible and however possible, into the democratic process," Surdam told NPR. 
Surdam and Gebhart, both women business owners, said in an email that the #MakeAmericaCakeAgain national project, which raises funds for the League of Women Voters during an election where a woman could be elected as the next president, "really speaks to how far we have come from the early days of our country when making Election Cakes was one of the few outlets for women at the time to engage in civic and political culture."
A not-so-sweet tradition forms in the 1990s 
The history of election cakes stands in stark contrast to the annual "First Lady Bake-Off," in which Americans decide which presidential candidates' spouse has the best cookie recipe. The contest first started in 1992, when Hillary Clinton tried to defend her career aspirations and, as a result, had to prove her homemaking abilities with an inane baking contest, Mic previously reported. 
Clinton's remarks during a 60 Minutes interview ignited the initial First Lady Bake-Off: 
"You know, I suppose I could've stayed home and baked cookies and had teas, but what I decided to do was to fulfill my profession, which I pursued before my husband was in public life," Clinton said.
By participating in the inaugural First Lady Bake-Off, Clinton wasn't inserting herself into democracy through baking as previous women did — the media essentially used baking to distract Americans from supporting how Clinton actually wanted to participate in democracy. 
Luckily, 2016 marks a delicious crack in the glass ceiling. Women have the freedom to participate in democracy on their own terms. Gebhart, Sondam and other male and female bakers nationwide are creating delicious, democratic cakes and raising funds to help people exercise the right to vote, and a woman, Clinton herself, has earned a presidential nomination from a major political party. 
Sounds like a reason for cake, if you ask us.