'Jessica Jones' season 2: News, release date and more for Netflix's Marvel series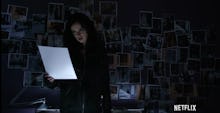 She didn't end up making an appearance on Marvel's Luke Cage series, so it's safe to say Netflix fans are eagerly awaiting Jessica Jones' return. Her titular show's first season earned acclaim, but unfortunately, it might be a long wait for the series' second run. 
As Netflix's chief content officer Ted Sarandos explained back in July, Netflix wants to premiere two Marvel shows per year. So for 2016, that was Daredevil season two and Luke Cage; next year's slate will be the already announced first seasons for Iron Fist and The Defenders. In other words, Jessica Jones season two will arrive in 2018 at the earliest. 
The good news, however, is that the hero will make her on-screen return next year. The Defenders will be the small screen answer to The Avengers, and in the place of the Marvel Cinematic Universe's heroes, Netflix users will be treated to a gritty, New York-based ensemble featuring Luke Cage, Jessica Jones, Iron Fist and Daredevil.
But when Jessica Jones does return to Netflix, you can expect at least one major change: All the season's episodes will be directed by women. The show's executive producer, Melissa Rosenberg, made the announcement on Friday. The show follows in the footsteps of Ava DuVernay's OWN series Queen Sugar, which also exclusively put women in the director's chair. 
In the meantime, Netflix must figure out is where the show moves forward after Kilgrave. The show's season one villain was arguably Marvel's most convincing (and terrifying) to date, and Jessica Jones will be hard-pressed to follow up with another memorable antagonist. The streaming service still has plenty of time to figure it out, and Jones' appearance in The Defenders next year could offer up some early clues as to where the show heads next.