Drake mocked Kid Cudi's mental health on "Two Birds One Stone" and no one is here for it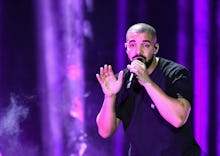 On Sunday, Drake released four brand new songs off his upcoming album on Apple Music OVO Sound Radio show, and on one of them he disses Kid Cudi for using drugs to escape "reality" — just weeks after the rapper announced to fans that he was entering rehab to treat his mental health issues. 
Now fans on social media are coming for Drake for what many are saying is an unfair attack on Kid Cudi, who wrote in a Facebook post earlier this month that he felt "ashamed" to admit to having suicidal thoughts. Cudi shared that he was checking himself into rehab to seek treatment, and here comes Drake to use that shame as a weapon and seemingly kick his would-be rival while he's down.
About a month before entering rehab, Kid Cudi called out Drake in a lengthy twitter rant, mocking him of trying to claim "top five and be having 30 people write songs for them." 
"My tweets apply to who they apply," Kid Cudi wrote. "Ye, Drake, whoever. These niggas don't give a fuck about me. And they ain't fuckin with me."
In "Two Birds One Stone," Canada's golden boy finally clapped back:
You were the man on the moon
Cudi famously described himself as "the man on the moon" in an anthem from his debut a Kid Named Cudi. Drake puns off the name to write off the MC's recent outburst and troubles as being yet another one of his "phases." He also seemingly punks Cudi for turning to anti-depressants to help him face up to the fact that Drake is "the greatest."
Twitter exploded Sunday night with people calling Drizzy out for unfairly mocking someone who was undeniably brave in opening-up about his mental illness.
Drake's lines are especially out of character coming from an artist who raps about suicide and depression on a regular basis. However, when reputations are on the line, nothing is off limits for Drake. Facing scrutiny and insult like this feels exactly the reason more artists aren't more forthcoming about their mental health.
Of course, while lots of Drake's own fans were among those who called him out for making fun of mental health issues, there were still plenty Drizzy fans willing to overlook Drake's attack on Kid Cudi because... there's a new album coming!