Consumers could be hurt by an AT&T takeover of Time Warner, watchdogs say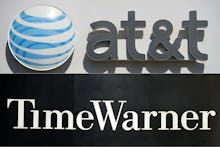 Telecom giant AT&T's announcement on Saturday that it would acquire entertainment content provider Time Warner for $85.4 billion has prompted a firestorm of criticism.
Business reporters argue the takeover — which could allow the combined companies to create a Netflix-rivaling digital platform — might hurt consumers, is overpriced by key measures, is reminiscent of the ill-fated AOL-Time Warner deal in 2000 and is likely to face serious regulatory challenges.
Both the Democratic and Republican presidential campaigns have signaled concerns about the merger, and members of the Senate Judiciary Committee's antitrust subcommittee say they plan to hold a hearing to evaluate it.
Makes sense: The resulting company would be a beast in size.
Based on the fact that shares of both companies dropped in value on Monday, Wall Street seems to be worried, too.
Now certainly, as some point out, neither company today seems quite as vulnerable as internet portal AOL was on the eve of the dot-com bubble bursting.
Plus, unlike with other takeover bids, Time Warner and AT&T do not compete directly, and the deal would therefore represent a more regulation-friendly "vertical integration," as AT&T Chairman and CEO Randall Stephenson told CNBC Monday. (Time Warner Cable was spun off in 2009 and is now part of a different company.)
Consumers should end up with more — not less — choice because of the merger, Time Warner Chairman and CEO Jeff Bewkes told CNBC in the same interview.
Does that logic hold up?
Several consumer watchdogs don't think customers will benefit.
"I don't see anything about this merger that would lower costs for consumers or increase choices for consumers," Todd O'Boyle, program director for the Media and Democracy Reform Initiative at nonpartisan consumer advocacy organization Common Cause, told the LA Times.
In fact, "big mergers like this inevitably mean higher prices for real people, to pay down the money borrowed to finance these deals and compensate top executives," Matt Wood, policy director at internet and press freedom advocacy group Free Press, told ConsumerAffairs. 
And, in addition to edging out competitors, potentially at the expense of consumer choice — and wallets — the deal could make it even easier for AT&T to collect data on users, raising privacy concerns, as open internet advocacy group Public Knowledge's senior counsel John Bergmayer pointed out in a statement:
There are good reasons to be skeptical that further consolidation in the communications industry could be good for consumers. Vertical integration between programming and distribution in particular raises a number of issues: DirecTV, for instance, might favor Time Warner content, crowding out or refusing to carry alternative and independent programming that viewers might prefer. AT&T might also make it more expensive or difficult for competitors to DirecTV or to its streaming service to access Time Warner [programming], hoping to drive customers to its own platforms ... Increased vertical integration could also increase AT&T's opportunities for data collection, which has relevance to FCC privacy initiatives.
Now, regulators would probably not let AT&T take extreme measures by, say, making "HBO exclusive to its cable customers," as Brian Stelter wrote for CNN.
And, as those who are more bullish on the deal point out, the vertical integration of a content provider and distributor is hardly unprecedented: Just look at Comcast-NBCUniversal.
But there are more subtle ways AT&T could gain an arguably unfair advantage, according to the Associated Press: AT&T already allows DirecTV phone app users to stream without eating away at their data limits — aka "zero rating."
What if the broadband goliath decided to do the same with live-streamed Time Warner content, like HBO's Game of Thrones?
That might be anticompetitive, the AP suggests, as it "could upset other video providers, who could reasonably worry that customers might shun their streaming services to avoid exceeding their monthly data limit and possibly suffering slower data speeds as a result."
In its press release, AT&T says the deal would lower prices for consumers by shifting "more cost of content creation from customers to advertisers" — in part because of better-targeted ads.
But, as global financial services firm BTIG analyst Rich Greenfield told the AP, it's not like Comcast's similar NBCUniversal takeover led to lower prices for users.
In short, there are many reasons the deal faces high hurdles for approval.
If the merger does not go through, Time Warner could pay AT&T $1.7 billion or AT&T could pay Time Warner $500 million — depending on the cause of the deal not succeeding.
Time Warner and AT&T did not reply to requests for comment by press time; this article will be updated with any response.