Swing State Polls: Florida, Ohio, Texas and the tightest contests in the presidential race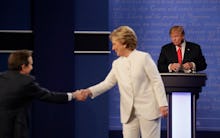 It is nearly impossible to find Donald Trump's path to victory without wins in Arizona, Florida and North Carolina. Two weeks before Election Day, what is Trump's largest problem? He is losing in those key battlegrounds. While Trump has the lead in Iowa and Ohio, wins in those swing states will not be enough. 
Here is the situation in the swing states. With a national lead of about 6 percentage points in the four-way presidential race, Clinton has a substantial cushion. While national leads can be fickle, her support in perennially competitive states has strengthened in recent weeks.
Florida
At the beginning of October, Trump and Clinton were locked in a very tight battle for the Sunshine State's 29 electoral votes. Now, the Democrat holds a nearly 4-point lead. 
In 2012, Mitt Romney led in Florida polls until Election Day. He lost the state by less than a point. 
Iowa
In Iowa, the story turns positive for Trump. He holds a lead of nearly 4 points and seems positioned to move the state's 6 electoral votes into his column. Except for 2004, Iowa has gone Democratic since 1988. 
Barack Obama won the state by nearly 6 points in 2012, and his win there in the 2008 Iowa caucuses jumpstarted his primary campaign. Iowa's pivot to Trump would demonstrate an important gain for Republicans. 
North Carolina
In the illustration of a perpetual problem for Trump, his gains in smaller states have been overshadowed by losses elsewhere. Obama stunned Republicans when he won North Carolina in the 2008 election. Romney won the state by 2 points in 2012.
Now, Clinton is positioned to win the state by a larger margin than Obama or Romney. For about three weeks, Clinton has held a lead in North Carolina of more than 2 points. A pick-up of the state's 15 electoral votes would likely seal victory for the Democratic presidential nominee. 
Ohio
Another apparent success story for Trump: The Republican has led, albeit narrowly, in recent polling on the contest for the state's 18 electoral votes.
But in this election, given the gains Clinton has made elsewhere in the country, Ohio may forfeit its role as the presidential bellwether. Wins in Ohio and Iowa are a must for Trump but a nice addition for Clinton. 
Surprise swing states
First, a caveat: Clinton is far from a lock in the following states. She is still likely to lose most or all of them. But the fact she is competitive in these states shows the degree to which polls signal Trump's demise. 
In Arizona, new polls give Clinton a lead of about 1 point. In Georgia and Texas, Trump leads by less than 5 points. In past presidential elections, those three states have been considered a foregone conclusion: They will go to the Republican. Except for 1996, Arizona has voted for every Republican since Dwight D. Eisenhower first ran for the presidency in 1952. Texas has gone red in ever presidential election post-1976. Since 1984, Georgia has only gone blue once. 
In 2012, Romney won Arizona by nearly 10 points. He won Texas by almost 16 percentage points. A loss, or even a near-loss, for Trump in any of these states would be an electoral disaster for the Republican Party. 
Here is where RealClearPolitics pegs the polls in states across the country: