Male cast members from 'Law & Order: SVU' come together for powerful sexual assault PSA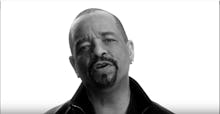 Few shows on television tackle various forms of sexual assault as much as Law & Order: Special Victims Unit does. So it's only fitting that the show's actors past and present took part in a powerful PSA against sexual assault. 
The male cast members of the show, including Christopher Meloni, Andre Braugher and Ice-T along with other celebrities, joined forces with the Joyful Heart Foundation for a series of PSAs with the tagline: "Enough." 
The idea behind the video from the organization, founded by current SVU star Mariska Hargitay, stems from the "boys will be boys" defense for instances of sexual assault — most recently, from the father of Brock Turner and from supporters of Republican presidential candidate Donald Trump. 
Actors repeat the four words and other excuses commonly used in narratives around rape across several videos, and in the 30-second "Boys will be boys" clip, the tone shifts from somewhat jocular to increasingly somber. At the end of the videos, a frame flashes and says, "Enough. Together we can raise a generation of boys to respect women and girls." 
According to the Joyful Heart Foundation website, Hargitay founded the organization in 2004 after receiving fan letters from sexual assault survivors who shared their stories with her. It has raised more than $28 million dollars, and has helped over 15,000 victims of sexual assault. 
All of the organization's "Enough" PSAs can be found here. Watch the 30-second clip below.