Elizabeth Warren to Donald Trump: Nasty women will "get you out of our lives forever"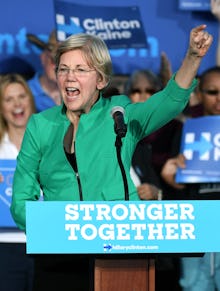 Massachusetts Sen. Elizabeth Warren tore into Donald Trump Monday afternoon during a rally for Hillary Clinton in New Hampshire, telling the Republican presidential nominee that "nasty women" are going to be the ones who doom his presidential bid on Nov. 8.
"[Trump] thinks that because he has a mouth full of Tic-Tacs he can force himself on any woman within groping distance," Warren said, referencing the leaked 2005 tape that's dogged Trump's campaign.
"Well, I've got news for you, Donald Trump, women have had it with guys like you. And 'nasty women' have really had it with guys like you. Get this, Donald, nasty women are tough, nasty women are smart and nasty women vote. On Nov. 8, we nasty women are gunna walk our nasty feet to cast our nasty votes to get you out of our lives forever!"
Warren used the newfound rallying cry, which Democrats seized on after Trump called Clinton a "nasty woman" at the third and final debate, to make a forceful case not only against Trump, but also against New Hampshire GOP Sen. Kelly Ayotte.
Ayotte — one of the most vulnerable GOP Senators up for re-election in 2016 — stuck by Trump for most of the cycle, even once calling him a "role model" before reneging that comment. She eventually denounced Trump, following the leak of a 2005 tape of Trump bragging about sexually assaulting women.
But Democrats, who earlier in the cycle gave Republicans ample opportunity to distance themselves from Trump, are now painting GOP elected officials like Ayotte as politically expedient for waiting until now to back away from Trump.
"For more than a year, Donald trump has made headlines almost every day. Where has Sen. Kelly Ayotte been?" Warren said.
Warren took it a step further, using Trump's own attack on Ayotte.
"Donald Trump is right: Kelly is weak," Warren said, referring to comments Trump made about Ayotte back in August.
Warren has been one of the most effective Democratic surrogates in 2016, stumping for Clinton and now for down-ballot candidates as Democrats eye the Senate majority.
Democrats need to win four seats and the White House to take back control of the Senate from Republicans — a scenario that would make the vice president the tiebreaker. Five seats or more would give Democrats a clean majority.
Ayotte's seat is key to reaching that goal. Clinton has an 8-point lead in the state, according to the RealClearPolitics average — a margin Democrats hope will carry their nominee, Gov. Maggie Hassan, to victory in the Senate race.