Jay Z and Kanye West beef is nothing new. It's politics as usual.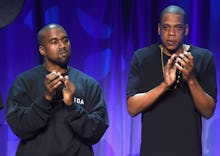 Back in 2013, when asked which of his artists he's most proud of during a Power 105.1 Breakfast Club interview, Jay Z named Kanye West.
"It would have to be Kanye West, the most successful at this stage of his career," he said. "The growth and the progress he's made is unbelievable. When he first came in he wasn't the artist he is today, but he always aspired to be ... He proved to be prophetic in that way." 
Three years later, he's missing that "old Kanye."
Hip-hop's most widely celebrated bromance seems to have come to a screeching halt Wednesday, when West burst into a rant against his former friend at a Saint Pablo tour stop in Seattle. 
"Don't call me after the robbery and say, 'How you feelin'?'" West shouted from his floating stage, referring to Kim Kardashian's Paris incident. "You wanna know how I'm feelin'? Come by the house. Bring the kids by the house, like we brothers. Our kids ain't never even played together." 
It's a far cry from when the two jointly rapped to their future children on Watch The Throne's "New Day" five years ago. However, the fact that Blue and North West haven't enjoyed a play date shouldn't be surprising. Despite the internet's obsession with seeing the two as best bros in a never-ending bromance, the truth seems far less endearing. Looking back through their history, it seems Jay Z and Kanye West's relationship has always been business first, amity second.
To understand the West-Jay dynamic, one has to take the history all the way back to the beginning in 2001. West first signed onto Roc-A-Fella Records as a producer, where he crafted some of the biggest hits for Jay Z's magnum opus The Blueprint. As West has long asserted in his raps, he always knew he could be more, bigger than a name to hide in the liner notes. Out of the three founders of the Roc-A-Fella label, it was the other two, Dame Dash and Kareem 'Biggs' Burke, who actually believed in West's ability early on. 
"Jay was against me giving him the record deal and putting him out, and there was an issue there," Dash explained to Boyce Watkins in one of their Intelligent Boss Moves videos. "But me and Biggs always had a vote so we voted to put him out. We fought for Kanye pretty heavy."
For Jay it came to dollars and cents. No matter Kanye's talent, Dash explained, Jay didn't feel the young label had the money to promote what he was doing. You look at the above quote from 2013, and the economic thinking is there too. Kanye was Jay's favorite in 2013 because he's the most successful. 
When the leadership at Roc-A-Fella split in 2005 as a result of a disagreement between Jay and Dash, West chose to side with Jay. From that point on, the two's professional relationship continued to flourish, culminating in 2011's Watch The Throne. 
However, leading up to that moment West never minced words on his frustrations with Jay. On his 2007 song, Big Brother, West, in what some would perceive as an ode, in fact, details his awkward love/hate relationship with him.
Rapping about the time he wasn't given complimentary tickets to JAY's "final" retirement show in 2003, West raps: 
"I guess big brother was thinkin' a little different
Yet it doesn't seem that age has added much perspective, except to bring the differences between the two into sharper relief.
During his rant in Seattle, West seemed to blame it on the industry's streaming wars, which Jay is a power player in. Speaking about Drake's song, 'Pop Style', which previously featured both 'Ye and Jay, West claimed: 
"There will never be a Watch the Throne 2. You know why? Because that's the reason why I wasn't on the song ["Pop Style"]. I wasn't on the song because of Hov. Because of some Tidal/Apple bullshit. This shit get me tight every time I perform this motherfucker." 
Kanye remains dedicated to the art and the expression, while Jay is far more interested in keeping his business intact.
Drake seems to actually have served as a pretty significant fork in the road of Kanye and Jay Z's relationship. In recent years, the Toronto rapper/singer has been involved in some light beef with Jay, who's long stood as the Jordan to Drake's Kobe. Yet if it wasn't for the Toronto MC, Watch the Throne may never have happened.
"Me and Hov would've never made Watch the Throne if [Drake] wasn't putting pressure on us like that," West once said. "So I just wanna pay my respect." 
Nowadays they're closer than ever. Back in August, Drake brought West out during his Chicago stop of his Summer Sixteen tour, the two confirmed rumors they're working on a joint album. Instead of working on the long thirsted after Watch the Throne 2, Kanye has made a new partnership at rap's summit – and it may not include Jay.
Even trying to view the Jay Z and Kanye bromance on a purely superficial level, it doesn't seem to add up. 
Generally, friends make time to be there for one another during profound, personal moments. As was widely publicized at the time, Jay Z and his wife Beyonce weren't even in attendance for West's marriage to reality star and North's mother, Kim Kardashian West. Even further, Jay hasn't outwardly supported 'Ye's attempts to conquer the fashion world, despite him seeking allies to help bolster its legitimacy. At Yeezy Season 3 fashion show and his New York stop of the Saint Pablo Tour, Jay, while in attendance for both, chose to play the background.
Jay will likely continue to play the sidelines throughout this ordeal, letting Kanye either continue to lash out as his tour stops or issue the apology he often does after rash outbursts like this. While West is arguably one of the most popular and progressive rappers to ever grace the genre, he certainly wouldn't have been here without Jay's tutelage.
"I wanted to learn this technique that Jay got of actually being likable," West told The Breakfast Club in 2013. "As his little brother, I needed to learn that technique because I got something that God want me to give the world." 
All these years later, West still may have more to learn, but he'll likely learn it from someone else.