Videos of attacks on transgender people reveal disturbing attitudes toward violence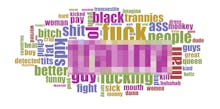 YouTube and other video sharing sites may be some of the best data archives we have on anti-transgender violence, according to a new study from WITNESS Media Lab.
WITNESS' report, called "Capturing Hate," analyzed the way video viewers engaged with videos that showed anti-trans violence on sites like YouTube, WorldStarHipHop, LiveLeak and Flyheight. Their analysis revealed patterns of discrimination and abuse and gauged public attitudes toward transgender violence. 
By using the terms "tranny fight" and "stud fight" to search titles and descriptions of uploaded videos, WITNESS found 329 videos across the four platforms; they also searched for instances of those terms within the videos' comments sections. Those 329 videos had 89 million likes; over 600,000 shares; 554,000 likes; and 230,000 comments. 
YouTube housed the most videos — 209 out of the 329 analyzed. Of those 209 anti-trans violence videos, 39% were categorized as "entertainment." 
Though only 47 of the videos depicting violent attacks were housed on WorldStarHipHop, the platform had the most views by far: 63 million out of the 89 million views. And 530,000 "likes" of the study's total 554,000 came from there, as well. YouTube and WorldStarHipHop did not immediately return requests for comment. 
WITNESS also analyzed how viewers engaged with the videos by culling comments into word clouds. In each visualization, besides use of the slur "tranny," one of the largest visible sentiments is "lol." 
The word clouds also highlighted particularly egregious comments on each platform, like this comment from a video uploaded to WSHH: 
"LMFAO what did IT expect coming over there talking smack and trying to push IT's lifestyle on normal people they should have all took turns shoving large objects up IT's vag and butt," the comment reads. 
WITNESS found that 99% of the engagement with these videos was comprised of positive responses to the videos' content, either through "liking" them or, depending on the platform, pressing "LOL" or "Thumbs Up" icons. 
Karen Stevenson, the lead researcher on the report, said she wanted to create a sense of urgency around violence toward trans and gender-nonconforming people.
"We've seen reports coming out of the Anti-Violence Project and the National Coalition of Anti-Violence Programs calling the murder rate against trans women of color an epidemic," Stevenson said in a phone interview. "But the story hadn't been told about how horrifying it is to walk while trans." 
The Anti-Violence Project releases an annual report that documents hate violence against the LGBTQ community. However, there is still no national database that specifically reports violence against transgender people. The U.S. Census Bureau does not track statistics about transgender 
Stevenson said that she hopes this data is just the starting point for an effective dialogue around violence against the transgender community. WITNESS offers guidelines in its report on how different people and organizations can use these videos to foster effective conversations.
Stevenson also gave a few tips to bystanders who wish to capture video as evidence of the epidemic: Protect the identity of the person who is experiencing the attack, and don't upload the video as "entertainment." 
"Video is the most impactful way to tell the story," she said. "I think it's important, in an ethical and sensitive way, to show people that this is out there. Until these communities are not in danger anymore, yes, please capture and share and learn how to use these videos ethically."