'Overwatch' Sombra ARG devotees are getting their hopes up for a big reveal Nov. 1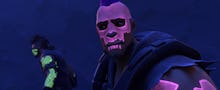 For months, the most hardcore and technically savvy players of Blizzard's multiplayer shooter Overwatch have been datamoshing images, translating cryptic Spanish phrases and running strings of code through ciphers. Why? They're following a trail of breadcrumbs Blizzard's leaving behind in an effort to uncover information about a new Overwatch character named Sombra.
Unfortunately, many players are now feeling fatigued. The general consensus is that the players' participation is not actually pushing the reveal of Sombra any closer, and that Blizzard would reveal her on its own time regardless of when clues are solved.
That said, the latest clues in the ARG — alternate reality game — point to a big development on Nov. 1, and some redditors are getting letting themselves get hyped again.
Overwatch Reddit points to a Sombra development on Nov. 1
The newest development in the Sombra ARG has its devotees dissecting the website of a fictional company called LumériCo, which was uncovered by converting the robotic character Bastion's unusual beeps into morse code.
According to emails redditors have uncovered by hacking into a LumériCo employee's email, the fictional company appears to be gearing up for the unveiling of a new nuclear power plant near Overwatch's Dorado map on Nov. 1, which some are speculating Sombra will attempt to stop through some kind of high-profile hack.
The email is just one component pointing toward something big happening on Nov. 1: Sombra has been continually been represented by skull-like imagery and ties to Mexican culture. Coincidentally (or not), Nov. 1 is also the Mexican holiday Día de los Muertos, a big part of which involves the crafting of detailed sugar skulls, much like the ones used to signify Sombra and the Overwatch gang Los Muertos, whose graffiti can be found all over the Dorado map.
So, whether Nov. 1 is the reveal of Sombra (which it probably isn't) or if it's just another tease that will reveal even more puzzles to solve (the more likely scenario), the Sombra ARG community is ready to get their thinking caps on — no matter how exhausted they are.