Here are 11 of the best Halloween-themed TV episodes available on Netflix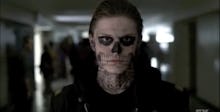 With Halloweekend fast approaching, there's no better time to check Netflix for Halloween-themed episodes from your favorite TV shows. 
Shows that are focused on horror or the supernatural can provide even more thrills to the spooky Halloween aesthetic, while sitcoms can use it to spice up the banter (plus, the laugh tracks that are already a tad creepy).
For eager binge watchers, here are 11 of the best Halloween-centric TV episodes you can check out on Netflix. 
Supernatural, "It's the Great Pumpkin, Sam Winchester"
The series that's now in its 12th — 12th! — season on the CW has no shortage of frightening moments. Any episode with the Winchester brothers would feel suitable for Halloween, but this Halloween-themed episode from the fourth season brings it up a notch, featuring witches and their creepy hexes, and a ton of Halloween candy for Dean (Jensen Ackles) to munch on. 
American Horror Story: Murder House, "Halloween" Parts One and Two
The anthology series' first season offers up a disturbing look at Tate (Evan Peters) before he was a ghost — though as the show's silly ghost rules indicate, he's allowed to leave the murder house on Halloween. 
This means a brief run-in with former classmates Tate gunned down at his high school, who are quite understandably upset with him. 
Parks and Recreation, "Greg Pikitis"
Leslie Knope (Amy Poehler) had many feuds with Pawnee residents on Parks and Recreation — including a teenage menace, Greg Pikitis, on Halloween. 
Buffy the Vampire Slayer, "Halloween"
Even for Buffy standards, the Halloween episode from season two was quite freaky, as Halloween-goers begin to turn into the real-life manifestations of their costumes. 
Buffy the Vampire Slayer, "Fear Itself"
Haunted houses are supposed to be somewhat realistic and scary, but in season four, a fraternity in Sunnydale accidentally summons a demon that turns their haunted house-themed party to life. Seriously, what would this town do without Buffy's help? 
Bob's Burgers, "Full Bars"
In season three, the Belcher kids are in pursuit of a ton of Halloween candy, and not that weak, fun-sized variety. Tina's costume — a mommy mummy — is sublime. 
That '70s Show, "Too Old to Trick or Treat, Too Young to Die"
Given the decade, the sitcom's season three Halloween episode cleverly plays to some of Alfred Hitchcock's most iconic horror films. Plus, Fez's costume is a new kind of (rocky) horror. 
The League, "Ghost Monkey"
Yes, the show about fantasy football had a pretty entertaining season two Halloween episode, with Taco (Jon Lajoie) stealing a monkey from a farm and subsequently tossing it out of a moving car. But fear not: The monkey gets its revenge. 
Here's Lajoie's original song from the episode — he does that a lot in The League. 
Gilmore Girls, "Twenty-One Is the Loneliest Number"
Instead of spending Halloween with Lorelai (Lauren Graham) in season six, Rory (Alexis Bledel) wants to celebrate her 21st birthday with her own friends. OK, so half of it is not Halloween-centric, but it's a good excuse to watch Gilmore Girls on Halloween. 
How I Met Your Mother, "The Slutty Pumpkin" and "The Slutty Pumpkin Returns"
It's always cool when How I Met Your Mother follows up on some of its earlier seasons' anecdotes with a payoff. In this case, Ted (Josh Radnor) meets a woman who is dressed as a slutty pumpkin for Halloween in season one, and he dresses in the same costume every year to try and find her. 
It's only in "The Slutty Pumpkin Returns" in season seven that he finally meets her again, though. Spoiler alert — she's still not the mother.