Halloween playlist 2016: "Thriller," "Superstition" and 11 other iconic horror tracks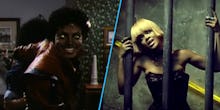 There is no better Halloween dance track than Michael Jackson's Thriller. Case closed. May the competition rest in peace. However, hosts this Halloween still need more than a single track to fill out their party playlists. Thankfully, other artists have succeed in imbuing their dance beats with some devilish vibes, without stumbling into "Monster Mash" levels of cheesiness. 
Here are 13 of the best fit to shimmy beside zombie Michael in his ghoulish dance line.
"Superstition" by Stevie Wonder
At the peak of his explorations in funk, Stevie Wonder dipped into superstition and the dark arts to give his music a little more of an edge. "Superstition" actually encourages the listener not to mess around with devils or buy into the witchy folklore of broken "looking glasses." Consider a ward of safety for your guests this Halloween weekend.
"Dracula's Wedding" by Outkast
Deep in André 3000's half of Outkast's Speakerboxxx/Love Below, there hides this curious gem. On "Dracula's Wedding" Andre meditates on his ability to captivate millions with his funkadelic raps, as if he were casting spells. Yet his powers have no effect on one special someone. Cue the gargoyle choirs and broken wedding bells.
"The Hills" by the Weeknd
The Weeknd has long described his music as being the R&B equivelant of "R-rated horror movies," and "The Hills" is one of his highest achievements in that vein. The fact Abel Tesfaye could get a song that opens his chorus with a blood curdling screeches, nods to The Hills Have Eyes and asserts "When I'm fucked up, that's the real me," to No. 1 on the Billboard charts will go down as one richest sidenotes of 2015 pop culture.
"Freaks Come Out at Night" by Whodini
As song that listens like the "Monster Mash" of early '80s hip-hop, Whodini's "Freak Come Out at Night" is a Halloween mainstay. The "freaks" discussed in the song are exactly zombies or ghouls, but we've all seen wasted out at the 5 a.m. They might as well be zombies.
"The Horror" by RJD2
Likely best known for recording the theme song to Mad Men, RJD2 has dabbled in just about every style of electronic music. His music often comes with a bit of a sinister vibe, and 2003's "The Horror" remains one of his finest creations.
"Zombie" by Fela Kuti
The zombies Fela Kuti was writing about in 1976 were not the dopey, drippy slobs of horror lore. The track was a protest anthem written to criticize the Nigerian military, which followed the orders of its corrupt leaders mindlessly, as if they were the walking dead. Despite its dark backstory, the track still has an infectious beat and the right vocabulary for the night.
"I Put a Spell on You" by Screamin' Jay Hawkins
The "Thriller" of outlaw blues, Screamin' Jay Hawkins "I Put a Spell on You" was a pivotal song in American music history. The song reportedly changed its singer as well. "I don't even remember making the record," Screamin' Jay reportedly once said of the song. "Before, I was just a normal blues singer ... It all sort of just fell in place. I found out I could do more destroying a song and screaming it to death." That's rock 'n' roll — and Halloween.
"Intergalactic" by Beastie Boys
Aliens are borderline in the family of Halloween ghouls. But you try to play Dead Space or watch Alien and tell me extraterrestrials don't belong in the horror canon. "Intergalatic" is a lighter take on the E.T. phenom, but add it to a party playlist and "the rhymes will spread just like a pox" as the Boys rap, "'Cause the music is live like an electric shock."
"Psycho Killer" by Talking Heads
The Talking Heads' "Psycho Killer" was born out of an attempt to write a gruesome shock rock song. "I imagined Alice Cooper doing a Randy Newman-type ballad," David Byrne once said of the song. "Both the Joker and Hannibal Lecter were much more fascinating than the good guys. Everybody sort of roots for the bad guys in movies." Uncomfortable truths.
"Monster" by Kanye West
Perhaps West's most famous posse track, "Monster" is perhaps best remembered for helping put a snarling Nicki Minaj on the mainstream's radar. Listening to her absolutely body Jay Z, who's methodically plods through his mediocre verse, still offers a giddy thrill.
"Teeth" by Lady Gaga
When Fame Monster Lady Gaga asks you to show her your teeth and "take a bite of my bad girl meat," you do it. No questions asked. It's a small shame Joanne Gaga would never be bold enough to make such an ask.
"Disturbia" by Rihanna
"Disturbia" comes off as Rihanna's attempts to record a spiritual sister song to "Thriller." It's not nearly as timeless, but it's still brings the hooks it needs. The video also essentially feels like a 6-minute long ad for a new season of American Horror Story. 
Listen to the full playlist below and have a safe (enough) Halloween.