Obamacare premiums will spike by double digits next year. Here's what that means.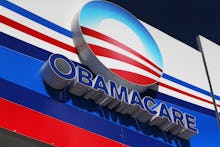 If you like your doctor, you can keep your doctor — but maintaining the cost of your health insurance may be a different story next year.
The news came via a Monday report from the federal Health and Human Services Administration on changes to the federal Affordable Care Act, also known as Obamacare.
"Before taxpayer-provided subsidies, premiums for a midlevel benchmark plan will increase an average of 25% across the 39 states served by the federally run online market," the Associated Press reported.
While some states will see greater increases than others, "The benchmark silver plan — upon which federal subsidies are based — will cost an average of $296 a month next year," CNN Money reported.
"That figure is based on prices for a 27-year-old enrollee in the 39 states that use the federal healthcare.gov exchange, plus the four states and Washington D.C. that have their own exchanges."
By comparison, "last year, premiums for the second-lowest-cost silver plans went up by 7.5% on average across 37 states," Bloomberg News noted.
What's more, insurance carriers are pulling out of the healthcare exchanges, leaving some customers with a dearth of choices as they shop for a plan.
ACA enrollees may well be able to avoid a sharp spike in the cost of insurance by returning to the exchanges to look for a better deal when enrollment opens on November 1: "About 77% of current enrollees would still be able to find ACA plans for less than $100 a month, once subsidies are taken into account," Bloomberg said.
Regardless, the news is sure to become even more a political football than it already is with just days to go before Americans choose a new president to succeed President Barack Obama, whose 2010 healthcare reforms have been a signature achievement of his administration.
Republican presidential nominee Donald Trump has slammed the plan as disastrous and promised to repeal it. He supports allowing Americans to deduct the price of health insurance premiums from their taxes and use Health Savings Accounts to cover their costs.
Democrat Hillary Clinton has vowed to preserve the ACA while lowering prescription drug costs and extend access to insurance to those who need it regardless of their immigration status.
House Speaker Paul Ryan jumped into the fray on Twitter, comparing the "disastrous" health plan to the Samsung Galaxy debacle:
Obama has acknowledged some of the program's shortcomings, including less-than-expected enrollment among young, healthy Americans, but he has also said it has expanded coverage to millions and he has lobbed critiques at governors of states that will not expand Medicaid coverage for the poor.