'Trump TV' may have just entered beta as campaign hosts nightly show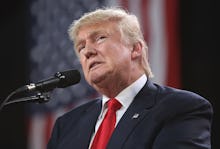 Republican presidential nominee Donald Trump, who is doing a miserable job capturing the presidency judging by election polls, has long been rumored to be eyeing a move into some form of right-wing media venture should his campaign tank.
Said rumors got a boost earlier this month when the New York Times reported Trump's son-in-law Jared Kushner was investigating the possibility of a Trump-branded television network. They are now likely to go into overdrive with news on Monday that the real estate mogul's campaign will be hosting a nightly broadcast from now until the election.
According to Wired, the show has begun being broadcast via Facebook Live from Trump Tower every night at 6:30 p.m. Eastern. It's hosted by Trump advisers Boris Epshteyn and Cliff Sims, as well as The Blaze personality Tomi Lahren, and for its inaugural broadcast, featured interviews with campaign manager Kellyanne Conway and surrogate Jason Miller.
Lahren is best known for controversial opinions on things like whether the Black Lives Matter movement is like the Ku Klux Klan or if Beyonce's Super Bowl 50 halftime show was hurtful to white people. In other words, she's more or less perfect for a Trump media venture. In an interview with the Dallas Morning News, Lahren said she wouldn't rule out working with Trump on just that.
If Trump is indeed testing the waters for a post-electoral career as a political commentator, then a digital service could be a better vehicle than the gritty mechanics of setting up a cable network.
"I have always thought that starting a network — getting set up, cable deals, all that kind of thing — even for Mr Trump, is a pretty formidable undertaking," Poynter Institute media analyst Rick Edmonds told Wired. "Some kind of streaming service would make a lot more sense."