Miss Iceland was body shamed and told to stop eating for a beauty pageant. So she quit.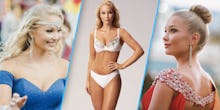 It's not just Donald Trump.
Nawat Itsaragrisil, a Thai TV presenter and owner of the Miss Grand International beauty contest, reportedly tried to force Icelandic beauty queen Arna Ýr Jónsdóttir to lose weight, even telling her to "stop eating breakfast" and "eat just salad for lunch."
Jónsdóttir refused, and instead made a powerful statement to Itsaragrisil and other men — like Trump — who think they have the right to police women's bodies: She quit the competition.
"If the owner of the contest really wants me to lose weight and doesn't like me the way I am, then he doesn't deserve to have me in the Top 10," she told the Iceland Monitor. "Yes, my shoulders are a bit broader than the other girls, but that is because I was a member of the Icelandic national athletics team and I am proud of that."
According to the beauty contest's website, Miss Grand International is one of the five biggest international beauty pageants in the world. Its aim is to "make a stand for the betterment of humanity" — an idea they seem more comfortable preaching than practicing.
"I no longer have any interest in doing my best in this competition after receiving that message," Jónsdóttir continued. "This is definitely the last contest I shall be taking part in."
The icing on the cake: Instead of leaving Las Vegas, the host city for the competition, which concludes on Oct. 26, Jónsdóttir decided — contrary to her initial Facebook post — to stay. Her reasoning: She wants to "explore the city, eat good food and [enjoy] the time I have here."
On Monday evening, she posted a photo on Instagram of a letter she sent to Itsaragrisil.
"I am a very strong woman but sometimes my strength isn't enough," she wrote. "Your staff told me that i had to lose weight for the finals because I have [too] much fat on me and also [too] big shoulders. They told me to eat less and then you would like me more."
She continued: "I truly hope that the organization opens their eyes because the year is 2016 and if you are gonna hold an international pageant you have to be able to see the international beauty. In my country, my body shape is perfect. And that's what I'm gonna remember. No one will ever tell me anything else."
But don't think this is the last you'll see of Jónsdóttir, who announced she will be one of the new faces of Nike.
"My past has made me who I am today," she wrote. "I'm so proud to be one of the faces for Nike and if I would not have my sporty body I would never have gotten this huge opportunity to work with Nike." Later adding: "I guess I like my sporty badass look more than my perfect beauty look."
Mic has reached out to Miss Grand International and will update the story when we hear back.